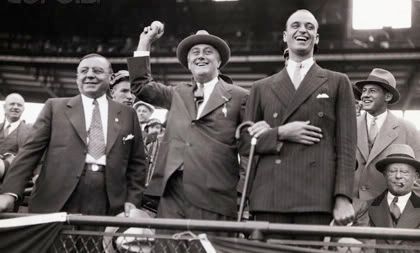 [Here we see Anton Cermak, left, with then-Governor of New York Franklin Roosevelt, centre, and his son James Roosevelt, right, at the 1932 World Series in Chicago; FDR was at Wrigley Field on the evening of October 2nd to throw out the first ball of Game 4 during his campaign for the presidency.

]
On this day in 1933,
Giuseppe Zangara
tried to assassinate President-elect
Franklin Delano Roosevelt
and ended up shooting Chicago mayor
Anton Cermak
instead; Roosevelt and Cermak were touring Miami's
Bayfront Park
at the time of the attack, where a memorial plaque marks the event today. Zangara's original plot had apparently involved killing President
Herbert Hoover
- since, to his way of thinking, all politicians were the same.
The diminutive assassin was seized by members of the crowd after he'd fired just one shot; in the ensuing melee he shot wildly four more times, injuring four more. Cermak (who was standing on the running board of the car at the time he was fatally wounded) died of peritonitis 19 days later, having famously said to Roosevelt en route to hospital: 'I'm glad it was me and not you, Mr. President'.
Zangara was executed in
March 1933
after just ten days on Death Row when he was led to the
Florida State Penitentiary
's electric chair,
Old Sparky
; having confessed fully upon his arrest, Zangara remained unrepentant as he met his death.
*
share on:
facebook