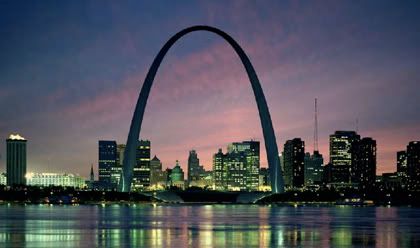 Initially home to
Mississippian
Mound Builders
, on this day in 1765
Pierre Laclède
established a trading post on the Mississippi, upriver from the port at New Orleans, which he named for the 13th Century French King
Louis IX
. As the region changed hands from the Spanish to the French to the Americans, the growing settlement at St. Louis - located near where the
Mississippi River
and the
Missouri River
meet - made the colony of
Louisiana
ever more valuable.
The
Louisiana Purchase
, negotiated by US President
Thomas Jefferson
, added 2,147,000 sq. km (or 828,800 square miles) to the fledgling nation* in
April 1803
; it cost the United States $11,250,000, plus the cancellation of debts worth $3,750,000, for a total cost of $15 million. The transfer was celebrated at St. Louis in
March 1804
on the so-called
Three Flags Day
(which actually took three days).
That wasn't, however, the only momentous event to occur in the city that year - not by a long shot... The
Lewis and Clark Expedition
departed the city in
August 1803
and returned there on
September 1806
, having made it all the way to the Oregon Coast and back. Aided by the arrival of steamboat traffic in 1817, fur trappers like
Ashley's Hundred
could reach overseas markets from St. Louis rather than having to go all the way to New Orleans to trade in person.
Missouri became the 24th US state in August 1821, and its principal city was incorporated in December 1822; a
fire
in
May 1847
burnt much of the city (already devastated by a cholera outbreak) to the ground. A steady influx of immigrants meant there was ample labour to rebuild, and quickly; while the
Civil War
did little militarily to impede the city's growth, it did shut down trade with the South. Fortunately the city's pivotal role as a trade depot to both the Union's army and navy kept it financially solvent during this time.
The
Gilded Age
, which followed the Civil War, saw the city become headquarters to various huge companies - Ralston-Purina and Anheuser-Busch to name just two - and the city's ambitions at the time were made manifest by two pieces of infrastructure in particular: 1874's
Eads Bridge
, the first bridge built across the Mississippi, and 1892's
Wainwright Building
, which lays claim to being the world's first skyscraper**. Home to both the
1904 World's Fair
and
1904 Olympic Games
- the first Olympics ever held in the United States - the city played a crucial role (culturally and otherwise) during Prohibition and the Great Depression, as much a home to jazz and the blues as it was bootleg hooch.
One of America's more interesting inland cities, the principal icon of St. Louis today is the
Gateway Arch
, which opened in July 1967.
*Just about doubling its size in the process!
**
Both are still extant today.
*
share on:
facebook