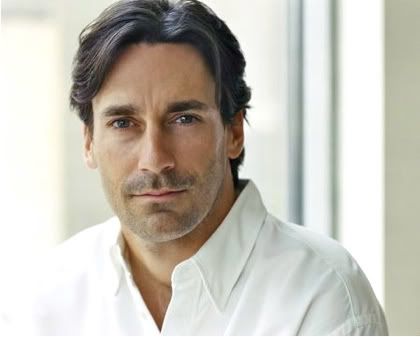 Most of the available hotness in 2008 belonged to one man: Jon Hamm, who was born on this day in 1971. Fortunately for those of us among his admirers, that streak of hotness prevails into 2011...
As advertising executive Don Draper in the
AMC
TV series
Mad Men
, Hamm inhabited the compromised soul of the early Sixties suburbanite like few have done before; his performance netted him a
Golden Globe Award
, as well as a shot guest hosting
Saturday Night Live
. That led to his being cast opposite comedy goddess
Tina Fey
as a love interest for her character, lucky bitch
Liz Lemon
, in the third season of
30 Rock
. His other credits include roles in the movies
Space Cowboys, Kissing Jessica Stein
, and the recent remake of
The Day the Earth Stood Still
as well as on TV's
Providence
and
Gilmore Girls.


In real life, Hamm is in a long-term relationship with lucky bitch
Jennifer Westfeldt
who is - it scarcely needs to be said - One. Lucky. Bitch.
*
share on:
facebook