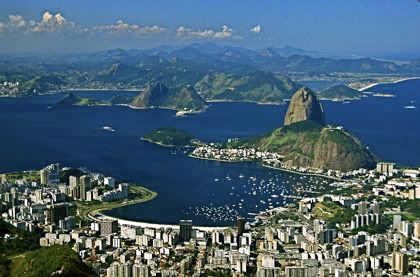 Although the picturesque coastal setting of
Guanabara Bay
- where today South America's third largest conurbation resides - was first explored by
Gaspar de Lemos
in
January 1502
(thus its name) the city itself wouldn't appear there for more than six decades; and while it was a French explorer named
Nicolas Durand de Villegaignon
who founded the area's first European settlement at
Fort Coligny
on the bay's
Serigipe Island
in 1555 (during the
France Antarctique
period) it was actually on this day in 1565 that
Estácio de Sá
established
Rio de Janeiro
following a successful military action against the French.
De Sa's contribution is now commemorated in the naming of thousands of schools and roadways throughout Brazil, including Rio's
Estácio
neighbourhood
.
The city was made capital of Brazil when the Portugese royal family found itself exiled from Europe in 1808. It would remain the capital following the establishment of the Brazilian monarchy under
Pedro I
in 1822, would continue in that role after the country became a republic in 1889, and was only relieved of the duty when administrative authority decamped to
Brasília
in April 1960.
As so often happens, the tropical paradise of Rio de Janeiro has also earned a reputation for crime; amidst its
Carnival
celebrations, famous beaches such as
Copacabana
and
Ipanema
, and major tourist attractions like
Christ the Redeemer
atop
Corcovado
, gangs of heavily armed thugs roam the city's
favelas
and posh neighbourhoods alike wreaking mayhem. The city's residents, known as
cariocas
, seem to take it all in their stride as they strive to provide visitors with the warm welcome generations of tourists have come to expect from them. It only remains to be seen if the city's problems can be successfully curtailed by the time it welcomes the world as the host of the
2016 Summer Olympic Games
.
*
share on:
facebook