Unlike 2009 and 2010 - with their wholesale massacres of celebrities on every list from A to Z - the Grim Reaper was somewhat more judicious in his dealings with Hollywood in 2008; among those he took from us in that year, however, was a genuine show business titan: Mr Paul Newman... In fact, such a living legend was he that it's long been something of a challenge trying to determine precisely what was the best thing about a man whose good qualities ran riot!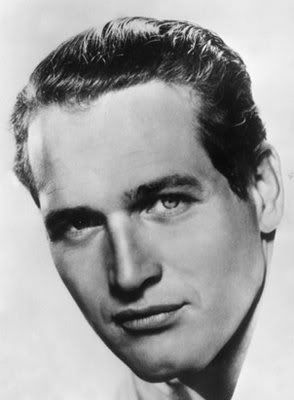 There were the looks of course: a lean frame, a wry smile that ingratiated itself right through you, and the coolest blue eyes the silver screen ever saw. Then again, there were his humanist politics, which so menaced US President Richard M. Nixon that Tricky Dick ended up using the full resources of the Internal
Revenge
Revenue Service to hound Newman unlike few others on his so-called
Enemies List
. There's also the matter of his 50 year marriage to
Joanne Woodward
, which speaks of a consistency and loyalty which was all-too-rare in Hollywood circa 1958 and is well-nigh extinct in that company town today. Yet while Newman's acting chops were nearly as impressive as his choices, it's pretty clear that his legacy remains his charity work...
Thanks to his
Newman's Own
brand - and according to their
website
- as much as US$270 million has been donated to worthy causes, such as the annual
PEN/Newman's Own First Amendment Award
; Newman was also heavily involved in the
Hole in the Wall Gang Camp
, as well as supporting scholarships at Ohio's
Kenyon College
. All of which work - like the roles he lovingly crafted for the silver screen - will continue to live on in his name.
The highlights of Paul Newman's acting career scarcely need to be gone over yet again but, in the interest of moving product (which, let's face it, is the only way I'm ever going to be able to make any money at this some day) I'mma do it anyway... Films from 1956's
Somebody Up There Likes Me
, 1958's
The Long, Hot Summer
and
Cat on a Hot Tin Roof
, 1961's
The Hustler
, 1962's
Sweet Bird of Youth
, 1963's
Hud
, 1967's
Cool Hand Luke
, 1969's
Butch Cassidy and the Sundance Kid
, 1973's
The Sting
, and 1986's
The Color of Money
, all the way to 2002's
Road to Perdition
- and many more besides! - all benefited from the preponderance of this special man and his copious talents.
So on this of all days, whether it's dinner you're planning, or else an after-dinner movie, who better to nourish your body
and
soul than Paul Newman, who
died on this day in 2008.
*
share on:
facebook