Of all the extraordinary talents lost to the curse of alcohol, Dylan Thomas is surely one of the greatest; born on this day in 1914 Thomas managed to drink himself to death at the
White Horse Tavern
in Greenwich Village by November 1953, aged only 39.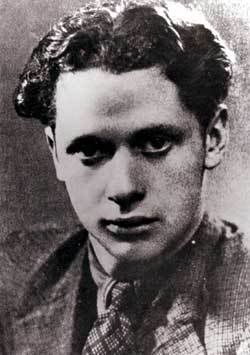 Raised in the Welsh port of Swansea, his first poem -
The Song Of The Mischievous Dog
- was published in
Bishop Gore School
's magazine in 1926; Thomas left at the age of 16 to become a reporter for the
South Wales Daily Post
.
Childhood trips out of the city to visit his mother's family at their farm in Carmarthen seem to have given his works their ecstatic appreciation of nature, most notably
Fern Hill
. Deemed unfit for combat, he spent World War II writing scripts for government propaganda films.
It was
Deaths and Entrances
in 1946 that saw his career fully formed, and thereafter he became well-known in the UK and the US for his rich speaking voice, with which he held audiences rapt.
Dylan Thomas is perhaps best known for two works from this era:
Under Milk Wood
, a radio play set in the fictional but wittily named
Llareggub
(buggerall, spelt backwards) which originally starred
Richard Burton
on radio (who was joined in the movie version by his wife
Elizabeth Taylor
), and
A Child's Christmas in Wales
, which is required holiday viewing here at the Pop Culture Institute.
*
share on:
facebook