Hers is the face that launched... Well, a thousand subsequent faces frankly. Don't get me wrong, though - I love
Cher
. It's a little known fact that when gay men come out of the closet they're made to swear allegiance to a minimum of three female singers, and I chose Cher, Madonna, and Bette Midler (in that order); even though I later added Judy Garland, Maria Callas, Liza Minnelli (and many others besides too numerous to list) Cher continues to top the roster.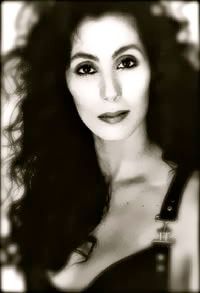 Yet despite being one of the most consistently provocative cultural figures of the last forty years, the paucity of photographs of her available on the Internet is truly disheartening. Even in combing the ample archives of the
Pop Culture Institute
I was unable to find anything suitable for scanning. Fortunately her website (which you can access by clicking on the image at right) has several which feature the added benefit of ably demonstrating the transformative power of the wig.
I actually have all her albums* - or at least all the ones I can get my hands on - and one of my earliest memories is of watching
The Sonny and Cher Show
. On days when I am feeling blue, one sure-fire cure is watching her
1990 film
Mermaids
, which for good measure co-stars
Winona Ryder
and
Christina Ricci
. I have been known to defend her decision to revert to alien form by the use of plastic surgery, and even when the story recently surfaced that she had
a live-in relationship with Tom Cruise
in the early 1980s (which she said not a peep about during all the years the media was determined to make him gay**) I had a good old laugh.
Fortunately, all the surgery and the trainwreck of her career (how many years can a farewell tour last, really?) has harmed neither her smoky contralto nor my memories of what she once was. But
if I could turn back time
, I'd capture her the way she looked as she does here, at the end of the 1980s; when I turn to her music for much-needed succour and close my eyes to better savour her amazing voice, this is the face I see...
*During the 1999 apartment robbery that cleaned out my CD collection, hers were some of the only ones left behind!
**Not that a relationship with Cher is a great signifier of heterosexuality, not by a long shot.


*
share on:
facebook