There are several truisms at play in the life of Gilda Radner - namely that comedy comes from pain, only the good die young, and that angels walk among us...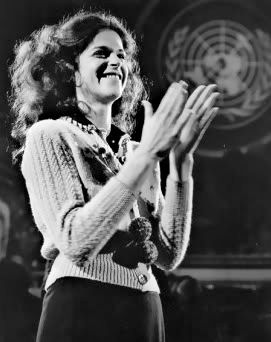 While her childhood was a happy one - to which even she would have attested - adolescence and young adulthood were not so kind. She was fourteen when her father died, which invariably leads to
mishegas
of one kind or another, and in Gilda's case that meant an eating disorder. As discussed by her lifelong friend David Saltman in his
memoir
of her, an illegal abortion in college scarred her emotionally as well. And then, of course, there was her meteoric rise to fame through the famed
Second City
comedy troupe and the syndicated
National Lampoon
Radio Hour - both of which were raided by
Lorne Michaels
when he was putting together the
Not Ready For Prime Time Players
, to feature on an irreverent new late night show eventually called
Saturday Night Live
. Gilda was the first to be cast.
As has been discussed time and again on the
Pop Culture Institute
, youthful fame is corrosive, and invariably exacerbates - rather than eradicates - existing problems. Such was the case with Gilda, whose ambivalence towards fame meant that she would often become angry when strangers (ie: fans) approached her in public, and depressed when they didn't; Gilda's time on the show is discussed extensively (if selectively) in
Live From New York: An Uncensored History of Saturday Night Live
by
Tom Shales
and James Andrew Miller. Likewise, her work on the show is gradually being released on DVD, and allows us to not only see her brilliance emerging for ourselves but to reassess our own impressions of it as well.
A relationship with fellow cast member
Bill Murray
ended badly, and after she'd left the show in 1980 she made an ill-advised marriage to bandleader
G. E. Smith
, all of which seemed to conspire to keep Gilda unhappy, even as her career was going great guns. Her one-woman show
Gilda Live!
is such quality entertainment it
has yet to be released on DVD
, where dreck flourishes and quality founders**. All that looked about to change, though, when on the set of the film
Hanky Panky
Gilda met and fell in love - as she later described it 'at first sight' - with co-star
Gene Wilder
. Together they would make two more movies together: 1984's
The Woman in Red
, and 1986's
Haunted Honeymoon.
No doubt they would still be making movies together today, if only Fate hadn't seen fit to intervene.
Early in 1986 Gilda began to feel sick, and in October of that year was diagnosed with ovarian cancer; her treatment was less than aggressive, her illness voracious. Despite an early remission, in 1989 her cancer returned. Three days before her death she was admitted to
Cedars-Sinai Medical Center
in Los Angeles, a scene heartbreakingly described for posterity by Wilder himself; as she was being wheeled in for a CAT-scan nurses attempted to sedate her. She became wild, refusing to accept the morphine, raving that if they gave her anything she'd never wake up. Eventually, she did take the morphine, and she never woke up. In life, as in comedy, her instincts were impeccable.
Gilda Radner died on this day in 1989; she was 42.
So while her life was short and easily taken, her legacy has proven long and will live on. Since 1991 many
Gilda's Club
branches
have sprung up around North America to help those living with cancer (and those living with those living with cancer). Having won an Emmy Award for her work on
SNL
in 1977, she was posthumously awarded a star on the
Hollywood Walk of Fame
, which is located at 6801 Hollywood Blvd. Yet a star on Earth hardly seems tribute enough for one whose place in the firmament shines brighter with each passing year...
*
Season One, Season Two, and Season Three have been out for awhile, and Season Four was released at Christmas 2008, while Season Five followed a year later - at which time it joined its mates in the collection here at

PCI

. Season Four is the most pertinent to this post, since that's the season for which she won her Emmy.
**Not that I'm bitter.


*



share on:
facebook