After the Thin Man
(1936) - It wasn't Jimmy Stewart's first film, nor was it his best; but an up-and-coming actor couldn't ask for any better role than a part in an established film series. So while the Thin Man series was still far from established - this is just its second instalment, after all - few star teams were as beloved even then as that of
William Powell
and
Myrna Loy
, and so hopes were high that their chemistry would provide the physics to take
Nick and Nora Charles
a long way. Since it was early in his career still - well before the ossification of typecasting could take hold - director
W. S. Van Dyke
traded on Stewart's cornfed face and aw-shucks demeanour to... Ah, but then if I told you, it might spoil the surprise!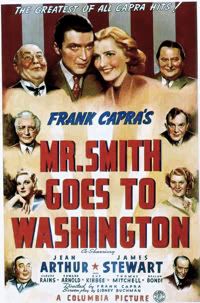 Mr. Smith Goes to Washington
(1939)
-
In any year but that
magic year
of 1939,
Mr. Smith
's eleven Oscar nods would have yielded far more than its single win; nevertheless, Stewart's bravura performance here is its own award, winning him the love and affection of three successive generations of movie fans, with many more to come.
Frank Capra
's masterpiece is patriotic without being jingoistic, and
Sidney Buchman
's glittering screenplay - with its ruminations on what America was, is, and could be - still bears the golden shine of the Academy's approval, while
Joseph Walker
's cinematography shows just why they used to call it the silver screen.
Destry Rides Again
(1939)
-
Proponents of the maxim that opposites attract need look no further than this all-too-rare example of the comedy-western for validation; all-purpose vamp
Marlene Dietrich
is amply equipped to seduce the too-good-to-be-accurate deputy, who - get this - refuses to carry a gun! In the end, of course, it's he that seduces her, winning her from the lawless ways of the saloon to the straight and narrow - just as the times demanded.
The Philadelphia Story
(1940) - While the film is really
Katharine Hepburn
's it was Stewart who got the prize; her usual neurosis is put to good use here depicting a spoiled
Main Line
socialite but his amazing turn as a likable tabloid journalist (those were the days!) is the one that got Oscar gold. Considered among the finest in the
comedy of remarriage
genre, it also costars
Cary Grant
, and all three stars shine so bright the studio must have saved a fortune during production on lighting. While it inspired the musical
High Society
(1956) this one has the rat-tat-tat banter that is so beloved by the
Pop Culture Institute
- plus the scene-stealing
Virginia Weidler
as Hepburn's kid sister, Dinah.
It's a Wonderful Life
(1946) - One of Hollywood's truer truisms is that to ensure the enduring appeal of a movie, set it at Christmastime; it may not show often eleven months of the year, but it'll more than make up for it during the twelfth, which is especially true since the advent of television and even more so since home video came along. Even in a cynical age, Capra's surprisingly bitter pill with the sickening sugar coating has sweetened many a Christmas Eve and will continue to do so as long as just one day a year sentiment is allowed to reign supreme.
Rope
(1948) -
Alfred Hitchcock
later tried to distance himself from this movie, with it's blatant (if innovative) gimmickry; shot on a single set in ten minute* scenes, with a massive (and massively detailed) cyclorama for a backdrop, Hitchcock's first colour film is nonetheless a marvel of motion picture making. Based on the
Leopold and Loeb
murder case which riveted the world in the 1920s, Stewart no doubt feels he is the hero in this one - although to modern eyes he might look like a judgemental bigot; it's far more interesting than the curio its director later attempted to make it out to be, and was a sign of kinky things to come for Hitchcock.
*Ten minutes is the length of a reel of cinema film stock.
Harvey
(1950) - Stewart's comedic side didn't get aired very often, and more's the pity; when it did the results could be as whimsical and thought-provoking as this. Befriended by a
pooka
, Elwood P. Dowd thwarts the social-climbing of his stuffy family, who just in time learn to value his eccentricity - all in all, a pretty powerful message to be spreading around at the time, and one which hasn't lost its meaning over all these years, either.
Rear Window
(1954) - As far as star-director combos go, Jimmy Stewart and Alfred Hitchcock were among the best; and as far as director-decade combos go, viewers couldn't ask for a better pairing than Hitchcock and the Fifties. This, then, may just be one of the finest films made in that oppressively bourgeois decade. Stewart plays a photojournalist - essentially a professional voyeur - laid up by an injury earned in the line of duty. Housebound, save for visits by his fiancee (the icy-hot
Grace Kelly
), he dreams up a murder right in his own back yard. Or does he?
Vertigo
(1958) - Stewart is a bit old to carry off the romantic side of things in this movie; in true Hitchcock style, though, the romance in this film is strictly the
macguffin
. As remarkable for its photography of San Francisco as it is for its kinky plot, it received a lukewarm reception in the United States upon its release - probably because it hit a little too close to home. Re-evaluated by the French in the Sixties, its repute has grown along with the social sophistication of audiences, and is today considered one of the finest films ever made in America. Despite
Kim Novak
, that is, who as an actor is about as convincing as a picture of herself tacked to a sheet of plywood.
*
share on:
facebook