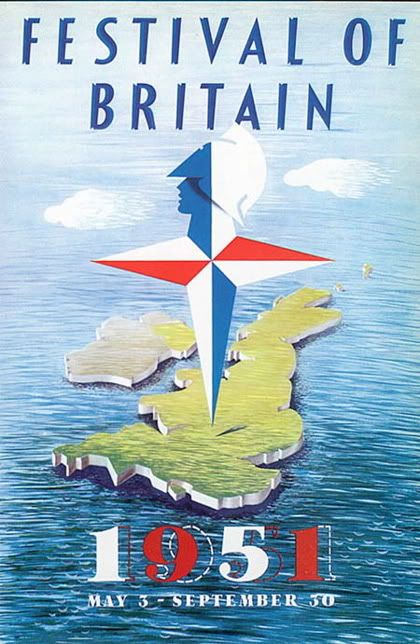 On this day in 1951
George VI
opened
the
Festival of Britain
on London's
South Bank
; not only was it a celebration of the centenary of the first world's fair - the
Great Exhibition of 1851
- it was intended to aid in Britain's postwar rebuilding.
Ironically most of the buildings on the Festival of Britain site - save for the
Royal Festival Hall
itself - were later demolished by that noted architecture critic, Prime Minister
Winston Churchill
, who felt they were too 'socialist' (whatever that means). All construction at the site had been overseen by
Hugh Casson
, although the hall itself was built by the firm of
Holland, Hannen & Cubitts
; despite the destruction of his masterwork, Casson was later knighted for his efforts.
On a less festive note, the crowds that gathered to greet the King, Queen, Princesses Elizabeth and Margaret Rose, and other assembled senior members of the Royal Family, were shocked by His Majesty's gaunt appearance that day; his speech, never confident, was now halting and airless. If he looked not long for this world that day, it's because he wasn't; in
September
* he would secretly have his left lung removed, and by the following
February
he was gone.
*One week to the day before the Festival
closed
, as it turns out.


*
share on:
facebook