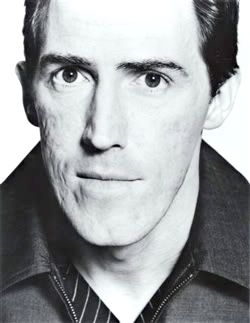 My first pop culture encounter with Rob Brydon was in the
third series
of
Little Britain
, in which he plays Roman DeVere - a tiny man torn between two very large women*. Then, as will happen, I took my piqued curiosity straight to YouTube and the rest, as they say, is hours of wasted time justified as 'research' - which some would call 'procrastination' and still others would call 'the tail wagging the dog'**. Not to mention the fact that my Welsh accent bears a striking resemblance to his - although not in any way that might be considered actionable...
Born on this day in 1965 in Swansea, Brydon has earned a following so large that it would have
Bubbles
and
Desiree
seething with jealousy, thanks in part to regular appearances in sitcoms like
Marion and Geoff
,
I'm Alan Partridge
, and
Gavin and Stacey
and guest shots on quiz shows like
QI
,
Have I Got News for You
, and of course the quiz show spoof sitcom that is
Rob Brydon's Annually Retentive.
*Actually, one large and one normal-sized man each in an oddly disturbing rubber lady suit - but you get the point.
**In other words, am I doing the research for the blog, or did I start the blog to justify the thousands of squandered hours I've spent absorbing this crap?
*
share on:
facebook