Bing Crosby's is far and away the most recorded voice in history; in all he made more than 1,700 recordings (with an estimated 41 of them #1 hits, including
White Christmas
, the #1 song of all time) and in a career spanning five decades - from vaudeville right on into the 1970s - he excelled simultaneously as a recording artist and as an actor first on radio, then in movies and finally, on television. During the last half of the 1940s he was the top box office draw for five consecutive years, and based on ticket sales alone is the third biggest movie star in history, after
Clark Gable
and
John Wayne
. Offscreen, he was an able businessman, who left a sizable fortune (said to be in excess of $150 million) at the time of his death, in October 1977.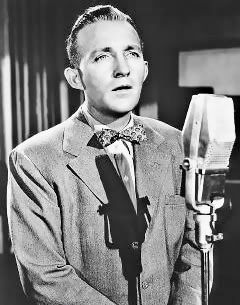 In the years since his death, though, Crosby's legacy as a performer has been considerably tarnished by the accusations of one man - his son
Gary
, whose memoir
Going My Own Way
was published in 1983. No matter how often or how loudly others (including Gary's brother
Phillip
) have come to their father's defense in the years since, the human propensity not only for preferring to believe the worst in a person but for also allowing it to obliterate a person's best seems to have won out in this instance*. So while the elder Crosby's much-vaunted qualities as a father may have been dealt a mortal blow, I prefer to let his achievements as an entertainer remain as untouched as they are unmatched.
Crosby's phrasing and cool baritone not only influenced most of the male singers who followed him - including
Frank Sinatra
- but his emphasis on the words no doubt brought about a better quality of songwriting as well, an innovation which is always welcome. Crosby didn't suffer from the delusion that just because he was a singer of popular songs he couldn't also be a consummate artist - an attitude many pop singers today would do well to emulate, since those who do generally are. Likewise, his interest in the technical side of the industry led him to invest in the development of, among other things, reel-to-reel technology; not only did these innovations serve him as an artist, but they helped to make him a mogul as well.
Still, the troubling legacy of Bing Crosby is one which calls out for understanding, rather than condemnation. The more or less relentless pressure on individuals to marry and have children - whether they're qualified or not - is responsible for much of the world's heartache; likewise, it is seldom made clear that it is incumbent upon us as adults to overcome whatever errors we feel might have occurred in our upbringing, and how we do (or indeed whether we even choose to) says more about us than our resume, eulogy, and Facebook page combined.
Bing Crosby was born on this day in 1903; for the most fair account of his early years and rise to fame may we suggest Gary Giddins' 2002 biography A Pocketful of Dreams: The Early Years, 1903-1940.
*In Gary Crosby's defense, two of Bing's sons, Lindsay and Dennis later committed suicide, and all were raised in an atmosphere containing much dysfunction in the way of alcoholism (mainly on the part of their mother, Dixie Lee) - not to mention the kind of social and psychological mendacity demanded of everyone by the society of the time.


*
share on:
facebook