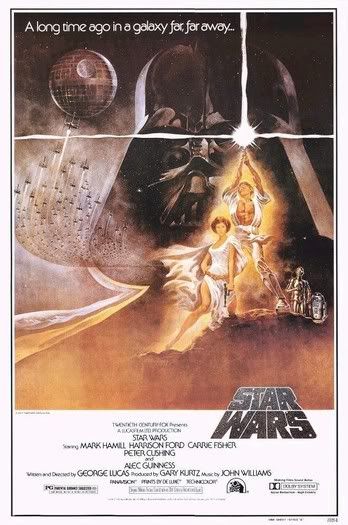 On this day in 1977 a certain low budget movie entitled
Star Wars
was released; it went on to be somewhat successful. (In fact, if you ever want to know what a zillion dollars looks like, go to
George Lucas
' house and rummage around in the cushions of his couch. That's where he keeps paltry sums like that.)
Though the film only opened in 32 theatres, it broke box office records wherever it was shown, going on to make US$6.8 million in its first week of wide release, and over US$300 million in its initial domestic release. This is in 1977, mind you...
As for my 7-year-old self, I don't think I was ever the same after seeing it. I went into the theatre that summer quite a contented little Earthling and walked out unspeakably bored by this dull little planet we live on.
The real kicker: its sequel,
The Empire Strikes Back
, was even better.
*
share on:
facebook