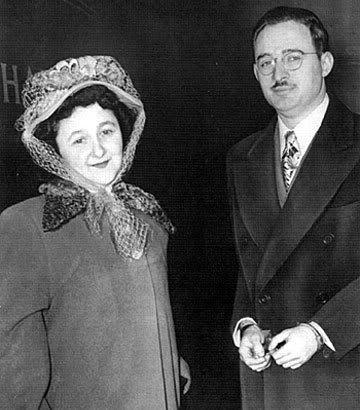 On this day in 1953 Julius and Ethel Rosenberg were executed for espionage in the electric chair at
Sing Sing Correctional Facility
in upstate New York. They were to have been executed the previous day, but were granted a stay of execution by US Supreme Court Associate Justice
William O. Douglas
thanks to the efforts of their lawyer,
Emanuel Hirsch Bloch
. While the Rosenbergs were generally considered to be guilty by all and sundry - including the left-wing press - in the weeks and months leading up to their trial, between the time of their conviction and their death grave doubts began to appear, mainly as a reaction to the fanatical anti-Semitism the case had engendered.
Information has recently came to light that Julius Rosenberg may have been guilty of something, just not of selling secrets of the Atomic Bomb to the Soviet Union, the crime for which he was convicted; it is generally accepted that his wife was entirely guiltless, and merely indicted alongside him in order to coerce him into a confession - a strategy which backfired, since it was a confession he could never make because he hadn't done it.
The Rosenberg's two sons -
Robert
and
Michael
- were orphaned by the executions, the stigma of which made their adoption difficult; the boys were eventually taken in by songwriter
Abel Meeropol
* and his wife Anne, at which time they took their new parents' surname.
The two later wrote the 1975 memoir
We Are Your Sons: The Legacy of Julius and Ethel Rosenberg
, the proceeds of which established the
Rosenberg Fund for Children
to aid the children of leftist activists involved in similar legal
mishegas
;
E. L. Doctorow
also wrote a book about the Rosenberg execution, his 1971 debut
novel
The Book of Daniel
, which was itself made into a film,
Daniel
(1983) directed by
Sidney Lumet
and starring the world's least Jewish-looking actor
Timothy Hutton
.
*Author of the song
Strange Fruit
under the pseudonym Lewis Allen.
share on:
facebook