I
could
list Justin Theroux's film and television credits (which are extensive) here; I could also go into those causes he supports (which are good ones) here as well. I could even go so far as to attempt some fancy syntax about the actor's art or the beauty of a soul shining through, fooling myself into believing that I've pulled one over on you...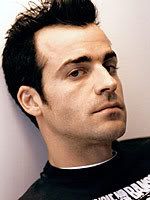 But let's
face
it. You all know why he's here. It's right there in that picture, as surely as it was in his guest appearance as one of
Carrie Bradshaw
's boyfriends (and
Valerie Harper
's son!) in a classic 1999 episode of
Sex and the City
entitled
Shortcomings
, or even in his combination star-turn cameo as a villainous DJ in the
2001 film
Zoolander
.
In my defense: if he wasn't talented or activist, he wouldn't be quite so hot. There's an awful lot of cute out there these days, and on its own it don't buy jack no more.
Yes, I'm talking to you, Josh Hartnett...
Theroux looks to be joining what could be called his family business... His uncle is
Paul Theroux
, the esteemed travel writer whose
novel
The Mosquito Coast
was later made into a
film
; one of the nephew's recent projects was the
Ben Stiller
vehicle
Tropic Thunder
, which screenplay Justin Theroux co-wrote, although there are no plans I can discover to turn it into a book. He also wrote the screenplay to
Iron Man 2
; he was suggested for the job to director
Jon Favreau
by none other than its star
Robert Downey, Jr.
.
Having played
John Hancock
in the
HBO
mini-series
John Adams
in 2008 and someone cleverly named Justin on NBC's sleeper hit sitcom
Parks and Recreation
, Theroux is scheduled to make a return to acting on the big screen with the film
Your Highness
, which is slated for release in April 2011.
*
share on:
facebook