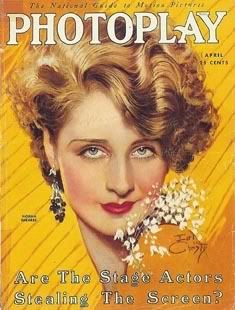 Born in Montreal on this day in 1902, young Norma left that fair city at the age of 16 when her mother, Mrs. Shearer - disgusted at the business reversals which had befallen Mr. Shearer and therefore all of them - took herself and her two daughters* and moved to New York to get into show business, leaving her son
Douglas
(eventually a Hollywood legend himself) behind with his father.
One of the first stars ever put under contract to
MGM
, Norma Shearer was signed by
Irving Thalberg
in 1924; she would later marry him, and together they would direct her career masterfully, taking her from 'girl next door' to 'good girl gone bad' to Queen of Hollywood until his own untimely death in September 1936.
Having made her last film in 1942, at the top of her career, Norma Shearer died in June 1983.
*The Shearer's other daughter was named Athole.
*
share on:
facebook