The hardest working royal in the business, The
Princess Royal
today turns 60; often criticized for her brusque manner - which the more diplomatic amongst us* might refer to as 'no-nonsense' - Her Royal Highness has spent her entire life in the service of the Nation, the Commonwealth, and indeed the world through various charitable patronages, most notably
Save The Children
.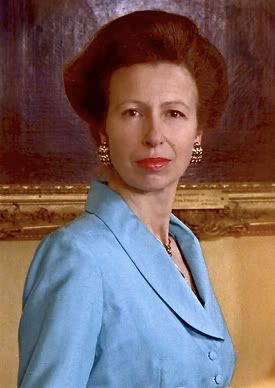 She even represented the United Kingdom at the
1976 Summer Olympics
in Montreal, where she competed in an equestrian event riding the Queen's horse Goodwill. Her attendance of the Games sparked a minor controversy, however, when it was announced that she would be the only competitor who didn't have to submit to a sex test; then again, as the first royal to ever compete in an Olympic Games, and seeing as she'd spent every single day of her life in the public eye, she was in a unique position of scrutiny none of her fellow athletes could claim for themselves.
The Princess Royal was also the first member of the Royal Family to have been the subject of a kidnapping attempt, in
March 1974
; Her Royal Highness was instrumental in thwarting Ian Ball, her would-be captor, an event which drew headlines around the world.
Seemingly combining the slavish attention to duty of
her mother
with the facility for controversy of
her father
, the Princess Royal was first married (at
Westminster Abbey
, to Captain
Mark Phillips
) in
November 1973
with all the pomp befitting the only daughter of the Queen. The marriage produced two children, son
Peter
and daughter
Zara
(herself an accomplished equestrian), and ended semi-amicably in 1992, following which Her Royal Highness quietly married
Timothy Laurence
. They reside at
Gatcombe Park
, which under her stewardship has developed into a centre for equestrian excellence.
The Princess Royal has had several notable brushes with the tabloid press... Her heavy-footededness behind the wheel has resulted in fines and the loss of points on her driving license. In 2002 she was convicted under the
Dangerous Dogs Act 1991
for the
anti-social behaviour
of her bull terrier Dotty, who attacked two boys while the Princess and her husband were walking through
Windsor Great Park
; Dotty also killed one of the Queen's prized corgis, possibly Pharos, during the Royal Family's annual Christmas holiday at
Sandringham
.
Recent years, however, have seen several far more positive events; in December 2006 her daughter Zara was named
BBC Sports Personality of the Year
, the same title The Princess Royal herself earned in 1971, and in
May 2008
she was the beaming mother of the groom when her son, Peter Phillips, married Candian-born
Autumn Kelly
at
St George's Chapel
, within the historic walls of
Windsor Castle
.
*In other words, brown-nosers.

*
share on:
facebook