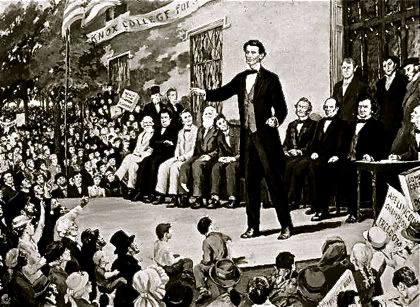 [

Although he argued strenuously against slavery during 7 three-hour debates with Stephen Douglas, Abraham Lincoln lost the Illinois Senate seat to his longtime rival anyway... Following the defeat, Lincoln had his thoughts on the subject published in book form; the massive popularity of that book, as much as the widespread publicity engendered by the debates, made him a shoo-in for the nomination at the

1860 Republican National Convention

- which itself set in motion a series of events that would within a decade would render Lincoln a legend.

]
1680
-
Pueblo Indians
captured
Santa Fe
from the Spanish colonists living there, thus ending the
Pueblo Revolt
; those who survived
Popé
's cunning strategy of cutting off the city's water supply were relocated to
El Paso del Norte
.
1689
- The
Battle of Dunkeld
occurred in the vicinity of
Dunkeld Cathedral
, pitting the royalist supporters of Scotland's so-called
James VII
under
Alexander Cannon
against the ultimately victorious
Cameronians
of
William Cleland
(who died in battle) and
George Munro of Auchinbowie
.

1770
- Captain
James Cook
claimed for England the territory in Australia he called
New South Wales
.
1810
- French-born
Jean-Baptiste Bernadotte
was elected Crown Prince of Sweden and made
Generalissimus
of the Army; he would later succeed
Charles XIII
as Charles XIV John.
1821
-
Jarvis Island
was discovered by the crew of the British ship,
Eliza Frances
, which was owned by Edward, Thomas and William Jarvis and mastered by a Captain Brown. Initially claimed by Britain, the island was annexed by the US in February 1858 under the
Guano Islands Act
, and it remains to this day classified as one of the
United States Minor Outlying Islands
despite being uninhabitable (owing to the fact that it has no fresh water and very little rainfall - and is covered with bird shit besides!) and therefore uninhabited.
1831
-
Nat Turner
led slaves and freemen alike in a rebellion in Southampton County, Virginia, which claimed 57 whites and as many as five times as many blacks, including Turner himself.
1842
- The Tasmanian city of
Hobart
was founded; if you don't know where that is, ask any Australian woman to show you her map of Tasmania and she'll likely accommodate you. (
snicker, snicker
)
1858
- The
Lincoln-Douglas
debates began, pitting Republican
Abraham Lincoln
against his Democratic rival
Stephen A. Douglas
at
Ottawa, Illinois
; at stake was a seat in the Illinois Senate. This also marks the last time the
Pop Culture Institute
ever rooted for a Republican to win anything (except possibly a seat in a dunk tank!).
1862
- The Vienna
Stadtpark
opened its gates, making it the first public park in that city.
1863
- The pro-Union town of
Lawrence, Kansas
(itself an abolitionist stronghold) was destroyed during the
Lawrence Massacre
by a legion Confederate guerrillas called
Quantrill's Raiders
led by
William Clarke Quantrill
.
1878
- The
American Bar Association
was founded.
1911
- In what may be the single largest example of internal shrinkage ever
Leonardo Da Vinci
's priceless masterpiece, the
Mona Lisa
, was discovered stolen from Paris'
Musée du Louvre
by artist
Louis Béroud
;
Vincenzo Peruggia
was later arrested for trying to sell the painting to the
Uffizi Gallery
in Firenze.
1944
- The
Dumbarton Oaks Conference
- at which the
United Nations
began to take shape - began; it would conclude on October 7th.
1959
- President
Dwight D. Eisenhower
signed the
Hawai'i Admission Act
, making
Hawai'i
the 50th state; to this day the third Friday in August is celebrated statewide as
Hawai'i Admission Day
- although our sources tell us the 'celebration' is growing increasingly muted with each passing year...
1968
- A posthumous
Medal of Honor
was awarded to
James Anderson Jr.
, the first African-American to be so honoured.
1969
- An Australian national named
Michael Dennis Rohan
set Jerusalem's
Al-Aqsa Mosque
on fire, gutting the southeastern wing of the
Temple Mount
holy site, in the process destroying a thousand-year-old
minbar
which had been the gift of
Saladin
.
1971
- Two hand grenades were tossed onstage at a campaign rally held by the
Liberal Party
of The Philippines in Manila's
Plaza Miranda
, injuring 95 and killing 9 anti-Marcos political candidates and their supporters including a five-year-old child and a photojournalist.
1983
-
Benigno Aquino Jr.
was assassinated on the tarmac at
Manila Airport
upon his return from exile. The killing hastened the demise of the Marcos regime, which has been seen as responsible; within three years Ninoy's
widow
would be President of the Philippines, and while she was unable to discover who killed her husband, at least she renamed the airport after him.
1991
-
Latvia
seceded from the Soviet Union, which at least helped to halt the military's
August Putsch
against the government of Mikhail Gorbachev.
*
share on:
facebook