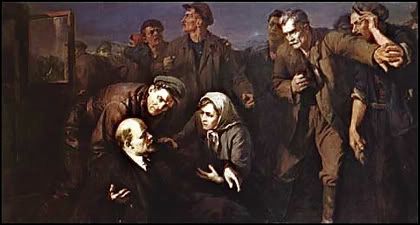 [After being arrested, Fanny Kaplan gave the following statement:
*
My name is Fanya Kaplan. Today I shot at Lenin. I did it on my own. I will not say from whom I obtained my revolver. I will give no details. I had resolved to kill Lenin long ago. I consider him a traitor to the Revolution. I was exiled to Akatui for participating in an assassination attempt against a Tsarist official in Kiev. I spent 11 years at hard labour. After the Revolution, I was freed. I favoured the Constituent Assembly and am still for it.
*
She was executed four days later...]
*Because the pardon being granted was posthumous it was also informal.
1813
- During the so-called
Creek War
a faction of
Creek
Red Sticks
led by
Peter McQueen
and
William Weatherford
(known as Red Eagle) carried out the
Fort Mims Massacre
in Alabama.
1835
- Settlers from Tasmania founded
Melbourne, Australia
.
1836
- The Texas city of
Houston
was founded by
Augustus Chapman Allen
and
John Kirby Allen
.
1862
- After three days of fierce fighting Union forces under
John Pope
were defeated by the Confederates of
Robert E. Lee
at the
Second Battle of Bull Run
during the
American Civil War
.
1909
- The
Burgess Shale
fossils were discovered by
Charles Doolittle Walcott
near
Field, British Columbia
.
1918
- Bolshevik leader
V. I. Lenin
was
shot
and seriously wounded by
Fanny Kaplan
, who was formerly a member of the
Socialist Revolutionary Party
.
1922
- The
Battle of Dumlupinar
- the final engagement in the
Greco-Turkish War
(which was itself part of the larger
Turkish War of Independence
) - provided a decisive victory for
Mustafa Kemal Atatürk
over Greek commander
Georgios Hatzianestis
near the Turkish town of
Kütahya
following a four-day fight with heavy casualties on both sides.
1956
- The southbound lane of the
Lake Pontchartrain Causeway
opened.
1962
- Japan's
Nihon Aircraft Manufacturing Corporation
conducted a test of the
NAMC YS-11
, the country's only successfully manufactured aircraft following World War II; in total 182 of the turboprop airliners would be built before their production ceased in 1974, although the last one in domestic use wasn't grounded on September 2006.
1967
-
Thurgood Marshall
was confirmed as Chief Justice of the US Supreme Court.
1968
- Britain's
Princess Marina
was
buried
at
Frogmore
next to her
husband
following a funeral at
St. George's Chapel, Windsor
; she'd died of a brain tumour at her home in
Kensington Palace
on August 27th, only hours after the Nation first learned of her dire condition.
1976
- London's annual
Notting Hill Carnival
ended in a riot
.
1982
- Following an
invasion of Lebanon
by the
Israel Defense Forces
- during an operation which has come to be known as the
Siege of Beirut
- Palestine Liberation Organization leader
Yasir Arafat
was
forced to leave
his headquarters in Beirut for the first time in a decade.
1984
- The
Space Shuttle

Discovery
had its maiden launch; its most recent mission is ongoing as of this date, and two more are planned for it before the craft is retired along with the rest of the Space Shuttle fleet in 2010 to make way for NASA's next phase,
Project Constellation
.
1999
-
East Timor
voted in favour of independence from
Indonesia
.
*
share on:
facebook