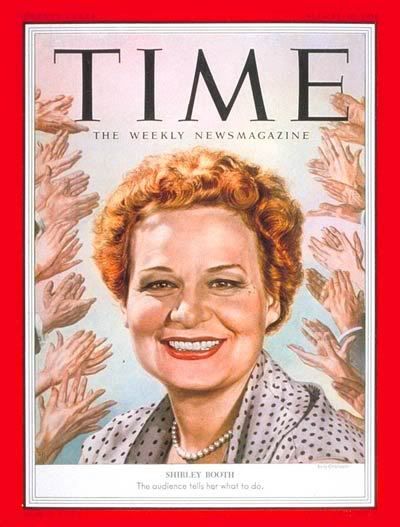 My earliest exposure to the unique talents of Shirley Booth was on the
original cast recording
of
A Tree Grows in Brooklyn
, in which she played the character of Cissy; I was then about 22, a budding theatre queen, and had long* been a fan of
Betty Smith
's
novel
of the
same name
. Although the story is ostensibly about Francie, onstage the unlucky-in-love Aunt Cissy steals the show, mainly due to the strength of Booth's personality. To this day I have no idea why a character who's such a loser with men should so capture my imagination, but there you have it...
Booth's career was centered on the Broadway stage, yet because of the greater durability of movies and the wider reach of television, she is better known for the five movies she made and the five seasons in which she starred as the titular
Hazel
, the
sitcom
that cemented her reputation**. Still, for those who know Shirley Booth only as that brassy maid with a heart of gold (or was it the other way 'round?) it was probably the
1952 film
Come Back, Little Sheba
that made it all possible; Booth became the first person in history to win both a Tony Award for the
stage version
and an Oscar for the
movie version
, which was also her big screen debut. She later starred as Dolly Levi in the
film version
of
The Matchmaker
(supplanting the role's Broadway originator,
Ruth Gordon
) a full decade before
Barbra Streisand
hammed it up for director
Gene Kelly
in
Hello, Dolly!
and five years before
Carol Channing
's iconic portrayal in the stage musical.
Born on this day in 1898 - which for actress-y reasons she later changed to 1907 - Shirley Booth made her final curtain call in October 1992, having been retired since 1974.
*Well, for five years anyway, but when you're 22 five years is a very long time!
**As well as launching the all-too brief career of
Ann Jillian
...

*
share on:
facebook