For centuries royalty only married each other, and the British were no exception; the history of that storied isle is cluttered with tales of foreign princesses and their equally exotic retinues washing ashore like
veddy
posh asylum seekers, each with an experience as individual as the kingdoms from whence they originally hailed...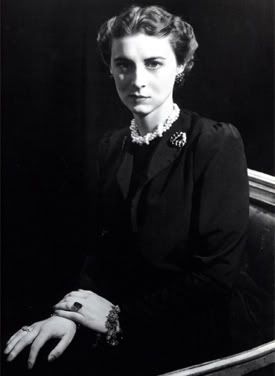 It's debatable who was the first foreign princess to take a chance on a British prince, but the last one we know for a fact was
Princess Marina
- who became Duchess of Kent upon her marriage to
Prince George
, the fourth son of
George V
and
Queen Mary
, in November 1934.
Princess Marina was born into the Greek Royal Family, who themselves were Danish, while Marina's
mother
was a Russian archduchess and granddaughter of Tsar
Alexander II
. With her model-thin body the newly-minted Duchess of Kent quickly earned a reputation as a fashion plate, while her doe-like demeanour endeared her to the British public, especially after the tragic wartime death of her husband in
August 1942
.
Princess Marina remained an active member of the British Royal Family throughout her widowhood, even attending the independence of Ghana (the first of the British Empire's colonies to attain nationhood) in
March 1957
. It's this sense of duty she instilled in her children - the present
Duke of Kent
,
Princess Alexandra
, and
Prince Michael of Kent
- who all support the Queen where and when they can; in fact, when the Duke of Kent attended Ghana's fiftieth anniversary celebrations in 2007 he could be said to have been representing both his mother and his queen.
Her Royal Highness was buried on this day in 1968, three days after her sudden death at
Kensington Palace
from a brain tumour; aged only 61, she died just hours after her condition was announced to the Nation. The ceremony - held at
St. George's Chapel, Windsor
- was attended by all
the usual suspects
, including her brother-in-law the
Duke of Windsor
, who flew in from France in order to get the cold shoulder from everyone else. The following year Princess Marina was immortalized in pop culture by
The Kinks
, whose song
She's Bought A Hat Like Princess Marina
appeared on their concept
album
Arthur (Or the Decline and Fall of the British Empire)
, released in October 1969.
*
share on:
facebook