Two things that will always serve a poet well are a surreal outlook on life and a willingness to put words into orders they've never been in before. It also doesn't hurt if, when looking at society, its foibles and injustices alike strike you as ridiculous...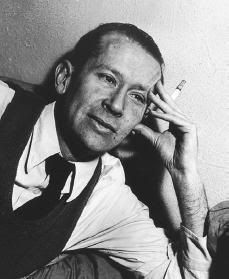 By these parameters alone, E. E. Cummings - born on this day in 1894 - more than qualifies as a poet. Even now, his garbled syntax conveys so much more even in its muddled condition than it ever could conforming to some old rules in a dusty old book somewhere. Sarcastic - but seldom cynical - Cummings viewed the world as a work-in-progress.
Rare among 20th Century poets, Cummings was wildly popular in his lifetime; whenever he gave readings they were to packed houses and rapturous applause. He also wrote plays and novels; his first book was a memoir, written in 1922 when he was just 28.
The Enormous Room
details the time during World War I he spent in a French prisoner of war camp, suspected of espionage.
Despite this, Cummings remained an avowed Francophile, and would return there often over the rest of his life.
*
share on:
facebook