Born on this day in 1960, Bradley Darryl Wong is a talented actor and writer, whose breakthrough Broadway role in
M. Butterfly
opposite
John Lithgow
was showered with honours: the
Tony Award
, the
Drama Desk Award
, the
Outer Critics Circle Award
, the
Clarence Derwent Award
, and the
Theatre World Award
- an unprecedented feat.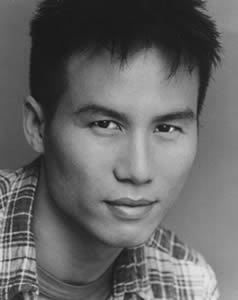 B. D. Wong currently appears as
Dr. George Huang
on
NBC
's
Law & Order: Special Victims Unit
; previously he appeared as
Father Ray Mukada
on
Oz
. He also played Linus (my favourite character) in the 1999 Broadway revival of
You're A Good Man, Charlie Brown.
In 2003 Wong wrote a memoir entitled
Following Foo: the Electronic Adventures of the Chestnut Man
, which concerned the tribulations involved in surrogate parenting when he and his partner Richie Jackson had their son Jackson Foo*.
That same year he was also given a
GLAAD Award
, which almost never go to gay people, since GLAAD's job is kissing up to straights. Not that I'm bitter.
*Jackson Foo Wong had a twin brother named Boaz Dov, who died 90 minutes after he was born; the pair were conceived using Wong's sperm and an egg from Jackson's sister, then carried via a surrogate mother.
*
share on:
facebook