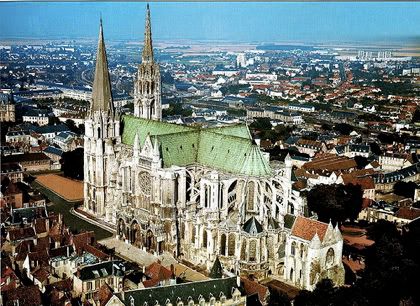 [
Chartres Cathedral
was dedicated in the presence of France's King
Louis IX
on this day in 1260, having seen a number of its predecessors on the site go up in smoke; this incarnation nearly became rubble itself at the hands of a mob during the French Revolution, only to be saved by its more courageous townsfolk.
]
69 CE
- At the
Second Battle of Bedriacum
forces under
Antonius Primus
- the commander of the Danube armies, loyal to
Vespasian
- defeated the forces of Emperor
Vitellius
.
1147
- After a siege of 4 months crusader knights led by
Afonso Henriques
reconquered
Lisbon.
1260
- The
Mamluk
sultan of Egypt,
Saif ad-Din Qutuz
, was assassinated by
Baibars
, who then seized power for himself.
1590
-
John White
, governor of the second
Roanoke Colony
, returned to England via Plymouth after an unsuccessful search for the 'lost' colonists.
1648
- The
Peace of Westphalia
was signed, marking the end of the
Thirty Years' War
.
1857
-
Sheffield F.C.
- the world's oldest football club - was formed.
1861
- America's first
transcontinental telegraph line
was completed, rendering the
Pony Express
obsolete.
1901
-
Annie Edson Taylor
became the first person to survive a trip over
Niagara Falls
in a barrel.
1917
- The
Bolsheviks
seized power in Russia, marking what is now generally called the
Russian Revolution
.
1926
-
Harry Houdini
made his final public appearance, at the
Garrick Theatre
in Detroit.
1929
-
Black Thursday
marked the initial
crash
of the
New York Stock Exchange
; Black Tuesday, five days later, finished the job.
1930
- A bloodless
coup d'état
in Brazil ousted
Washington Luís Pereira de Sousa
, the last President of the country's
First Republic
, and his heir apparent,
Júlio Prestes
;
Getúlio Dornelles Vargas
was then installed as 'provisional president' under a system known as
Estado Novo
. Vargas' steady drift to the right ensured that Brazil had become a fascist dictatorship by the time he left office for the first time in October 1945.
1931
- The
George Washington Bridge
, linking upper Manhattan to Fort Lee, New Jersey, was dedicated; it opened to traffic the following day.
1945
- The
United Nations
was founded once all five permanent members of the Security Council - the US, the UK, France, Russia, and China - had ratified its charter.
1980
- The government of Poland legalized the
Solidarity
trade union, which was a first within the Soviet bloc; the union was de-legalized two years later by
Wojciech Jaruzelski
.
1990
- Italian prime minister
Giulio Andreotti
revealed to the Italian parliament the existence of
Operation Gladio
, a '
stay-behind
' paramilitary force organized by
NATO
and the CIA in order to prevent the spread of Communism into Italy after World War II.
1998
- The
Deep Space 1
mission was launched.
2002
- Washington, DC, area spree killers
John Allen Muhammad
and
Lee Boyd Malvo
- the infamous
Beltway Snipers
- were arrested.
2003
- British Airways' last
Concorde
made its final commercial flight.
*
share on:
facebook