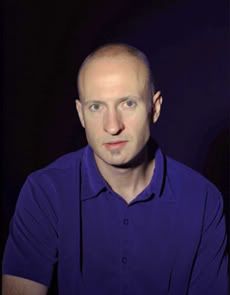 Contradicting the myth that all gay men are disco queens, Bob Mould broke the mould by forming
Hüsker Dü
; over the course of a dozen albums' worth of glorious noise, the band bridged the gap between punk and rock, their sound presaging
alternative rock
by a decade in a time dominated by hair metal...
Mould's solo projects have maintained the hallmarks of his work both with Hüsker Dü and
Sugar
, the band he formed in the 1990s, while showcasing his more experimental side. Walls of noise and outraged sentiment for diehard fans meet acoustic arrangements, introspective lyrics, and even the occasional foray into the dance and house sounds of his emerging
oeuvre
.
And so begins Act Three for Bob Mould, whose electronica-influenced
Modulate
was released under the name LoudBomb (an anagram of his name) to the usual mixed reviews that anyone with the willingness to try something new will often receive. Yet if there's one thing Bob Mould has proven time and again in his long career it's that he knows how to be ahead of the curve, and critics be damned.
*
share on:
facebook