Novelist, poet, playwright, bon-vivant, and the foremost wit of the Victorian era, Oscar Fingal O'Flahertie Wills Wilde was born on this day in 1854, in Dublin; his father was the noted ear and eye specialist
William Wilde
, his mother the successful writer
Jane Francesca Elgee
, an Irish nationalist who wrote under the name Speranza.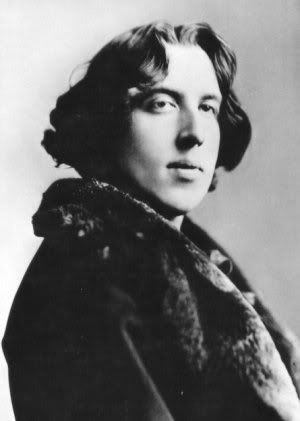 Wilde's precocity was evident from an early age; home-schooled until the age of nine, he was sent away to
Portora Royal School
first, then to Dublin's
Trinity College
. Having excelled at his schoolwork, Wilde was awarded a place at
Magdalen College, Oxford
, where he studied the classics and rowed crew.
At one time enamored of
Florence Balcombe
(who later married
Bram Stoker
), in May 1884 Wilde married Constance Lloyd; together they had two sons, Cyril and
Vyvyan
, who after their father's 1895 downfall would be known by the name Holland. Although Wilde had been aware of his attraction to men throughout his life (thanks to early liaisons with
Frank Miles
and
Robert Baldwin Ross
) it cannot be said for sure when he first engaged in 'the unspeakable vice of the Greeks', or with whom. However, it was his relationship with
Lord Alfred Douglas
which was to prove both the apex of Wilde's homosexual life, even if their illicit love would also bring about the nadir of his reputation.
While it lasted, though, what a reputation it was! Built on such novels as
The Picture of Dorian Gray
(1890) and theatrical comedies of manners as
Lady Windermere's Fan
(1892) and
An Ideal Husband
(1895) their aesthetic flamboyance and (for the times, anyway) racy dialogue was nothing compared to Wilde's own patented affectations - principally a wardrobe of velvet and satin combined with a flair for caustic witticisms. In a society for which the best-suited adjective will always be 'stuffy' Wilde was a breath of fresh air... Alas, Victorian society was stuffy for a reason, and those who'd made it that way increasingly sought to keep it stuffy at whatever cost.
It was at the beginning of April 1895, at the pinnacle of his greatest success - as author of the hugely successful play
The Importance of Being Earnest
- that Wilde sued Douglas' father, the irascible*
Marquess of Queensberry
, for libel; before the trial was over, thanks in no small part to the legal maneuvering of
Edward Carson
QC, not only was Queensbury's libel disproven but Wilde and his quick wit would be vanquished. Encouraged by the few friends he had left to flee to the Continent, Wilde refused.By the end of the month he'd been arrested outside Knightsbridge's
Cadogan Hotel
and would soon thereafter be sent to jail - first to
Pentonville
, thence to
Wandsworth
, and finally to
Reading Prison
(wherefrom sprang his famous
Ballad
). Released in 1897 after two years imprisonment, his health ruined, Wilde settled in Paris (often under the assumed name of Sebastian Melmoth); he died 3 and a half years later, in
November 1900
, in room 16 of the
Hôtel d'Alsace
- his condition apparently aggravated by the decor**.
Initially buried outside Paris at
Cimetière de Bagneux
, his body was later moved to its current resting place, at
Père Lachaise Cemetery
, within a
tomb
designed by Sir
Jacob Epstein
: as proof of the rehabilitation of Wilde's memory, his final resting place is today covered with lipstick traces, and is among the most visited in that hallowed ground.
Oscar Wilde has been best played onscreen by
Stephen Fry
in the 1997
biopic
Wilde
, which was itself based on
Richard Ellmann
's definitive 1989
biography
; interest in Wilde, though, remains high - as evidenced by recent works like
Oscar Wilde Discovers America: A Novel
by Louis Edwards.
*Which is putting it mildly... He was, in fact, a major league prick - yet his other accomplishment in life were
rules
for fair play in the pursuit of pugilism.
**He did, after all, famously quip from his death bed: '
My
wallpaper
and I are fighting a duel to the death. One of us has got to go.
' In truth, Wilde succumbed to cerebral meningitis.
*
share on:
facebook