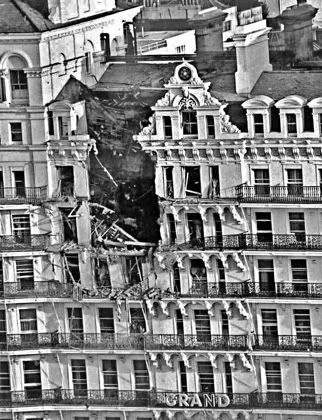 [
As badly damaged as it was, Brighton's Grand Hotel
was nowhere near as bombed as it is possible to
get in this seemingly genteel seaside town.
]
1216
- England's King
John
lost his royal treasure - including the Anglo-Saxon
Crown Jewels
, a fortune in coins, and many faithful retainers but thankfully not the
Great Seal of England
- in
The Wash
, possibly near
Fosdyke
or else while crossing
Sutton Bridge
; so distraught was he by the terrible turn of events, he died within a week during a visit to
Newark Castle
.
1654
- The
Delft Explosion
devastated that Dutch city, killing more than 100.
1792
- The first
Columbus Day
was celebrated in New York City.
1793
- The cornerstone of
Old East
- the oldest state university building in the United States - was laid on the campus of the
University of North Carolina
.
1810
- The citizens of M
ü
nchen joined in the celebration of the marriage of
Crown Prince Ludwig of Bavaria
to Princess Therese von Sachsen-Hildburghausen at what was to become the first
Oktoberfest
.
1822
-
Pedro I
was declared
Emperor of Brazil
.
1892
- By an Executive Order of US President
Benjamin Harrison
the
Pledge of Allegiance
- written by
Francis Bellamy
- was first recited in unison by schoolchildren in honour of the 400th anniversary of the 'discovery' of America by Christopher Columbus.
1915
-
Edith Cavell
was executed for allegedly helping hundreds of soldiers to escape from German-occupied Belgium.
1918
- A
massive forest fire
killed 453 people in northern Minnesota; hardest hit was the town of
Cloquet
.
1933
- The US Army Disciplinary Barracks on
Alcatraz Island
was acquired by the US Department of Justice for possible use as a prison.
1953
-
Herman Wouk
's
play
The Caine Mutiny Court Martial
- itself based on his
1951 novel
The Caine Mutiny -
opened in Santa Barbara; following a national tour it made its Broadway debut at New York City's
Plymouth Theatre
in January 1954 where it ran for 415 performances, while it was being made into a film.
1960
- Soviet leader
Nikita Khrushchev
pounded his shoe
on a desk at a meeting of the
United Nations General Assembly
while protesting an assertion by the Filipino delegate
Lorenzo Sumulong
that the Soviets were then attempting colonialism in
Eastern Europe
.
1968
-
Equatorial Guinea
gained its independence from Spain.
1978
-
Sex Pistols
lead singer
Sid Vicious
was
arrested
on murder charges arising from the sudden, unexplained death of his girlfriend
Nancy Spungen
in Room 100 of Manhattan's notorious
Hotel Chelsea
earlier that morning.
1984
-
IRA
bombs damaged
the
Grand Hotel
in Brighton, where
Margaret Thatcher
's
Conservative Party
were attending a conference; although the bombs narrowly missed killing the Prime Minister, 5 people died, several were permanently disabled, and 34 others hospitalized.
1986
- When
Elizabeth II
and the
Duke of Edinburgh
visited the People's Republic of China it was the first-ever visit there by a British Head of State.
1988
- Constable Steven Tynan, 22, and Probationary Constable Damian Eyre, 20 - two officers of the
Victoria Police
- were gunned down execution-style in Australia's
Walsh Street police shootings
.
1999
- The Earth's
population
was said to have topped 6 billion.
2000
- The
USS Cole
was
badly damaged
by suicide bombers.
*
share on:
facebook