In the years since I
first published
birthday wishes for noted filmmaker
Kristen Bjorn
- on the occasion of his fiftieth birthday in 2007 - that post has driven my traffic like a model drives another model in any of the
videographic masterpieces
he's produced. Even though it wasn't done through any intention of his own, Kristen Bjorn has done more to help my business than anyone aside from me. Alas, the best way I have to show him my appreciation he don't want, so I decided to write this as a consolation prize - for both of us...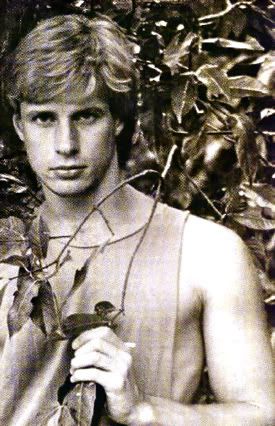 Bjorn's career in all-male erotica began in the late 70s - in front of Fred Bisonnes' camera, appearing in über-classy orgasm outlet
Advocate Men Live
; graduating from still photos to video, Bjorn likely realized early on that the only real money in porn is in production. In 1988 he shot
Tropical Heatwave
, his first feature, but his first shot at actual hardcore came during his next video,
Carnival in Rio
. (
And I do mean
came
!
)
Bjorn's specialty as a pornographer is and has always been ethnic men; at a time when the majority of the world's porn was being produced in LA's San Fernando Valley and featured the finest of California's gym, disco, and/or beach clones, Bjorn made the genius decision to visit Brazil, Eastern Europe, and even Australia in search of unique looking hot men willing to have sex with each other for money. Thanks to him, gay porn is now being made all over the world; as if this act of foresight wasn't enough, Bjorn not only refused to play coy over whether or not his models were 'all the way gay' but decided to accept that some gay guys prefer to watch straight guys going at it, and decided to market it.
Of course, the downside of getting all these straight guys to bang each other on film is that there is always the risk of creating a
Matt Sanchez
- who appeared in Bjorn's North-of-the-Border epic
Montreal Men
as Pierre LaBranche, despite being neither gay nor Canadian. Sanchez later proved a versatile performer; while on camera in porno he was a top, when it came to later parroting Republican bilge on cable news shows he's a very naughty puppet indeed. (
If you know what I mean...
) Still, for all the good Kristen Bjorn has done in the world, I suppose creating the occasional Matt Sanchez doesn't seem so bad.
*
share on:
facebook