Did Freddie Mercury conceal his sexuality, ethnicity, and eventual HIV status out of cowardice, ambition, or protection - or was he simply beyond it all: post-gay, world citizen, and zealously protective of his privacy? In lieu of having the man himself to ask we can only speculate. One thing
is
certain, he
was
consistent; school chums he'd made in the 60s agreed with people he met professionally in the 80s - he was always reserved and soft-spoken, despite his flamboyant onstage persona.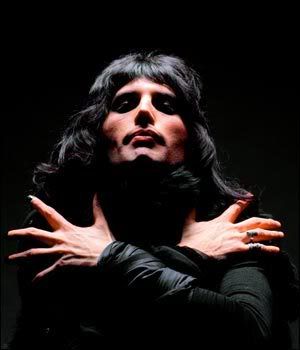 Born in
September 1946
as Farrokh Bulsara, and educated partly at
St. Peter's School
near Mumbai, in 1964 Mercury and his family fled a
revolution
in Zanzibar (where they lived) to settle in London. In his new home, Mercury studied art, first at
West Thames College
and later at
Ealing Art College
; while working his way through a series of odd jobs the shy yet musically precocious Mercury also drifted through a series of bands, finally finding the one that clicked in April of 1970:
Queen
.
With such diverse influences as
Lata Mangeshkar
,
Jimi Hendrix
,
Led Zeppelin
, and
Liza Minnelli
Mercury threw himself into the new venture he'd started with
Brian May
and
Roger Taylor
(
John Deacon
came later) and by 1973 the band's
eponymous
first album was released. As adored by fans as it was trashed by critics, it would set the tone for the band's entire career;
Sheer Heart Attack
in 1974, and 1975's
A Night at the Opera
forever cemented the band's reputation.
It was on this day in 1991 Freddie Mercury left this world, but not before leaving the world the legacy of his music. Only the day before he finally confessed that he had HIV (although rumours had been rampant for some months, owing mainly to his gaunt appearance); he is survived by his partner at the time, Jim Hutton, and by Mary Austin, a long-time girlfriend who was the chief inheritor of his estate, as well as by family, friends, and fans the world over.
Yet, not even in death has Mercury been afforded the privacy he so zealously sought in life; as late as 2006, officials in Zanzibar - the island in the Indian Ocean (now a part of Tanzania) where he was born - quashed plans to host a 60th birthday tribute to him because his openly gay lifestyle was said to clash with Islamic values.
*
share on:
facebook