Beloved by
Charles II
of England and admired by contemporary diarist
Samuel Pepys
- who called her 'pretty, witty Nell' - Nell Gwynne was the pre-eminent
comedienne
of the
Restoration
stage, and the first actress whose fame has outlived her lifetime, since women weren't permitted on the stage previously; the era also saw the emergence of Britain's first woman playwright,
Aphra Behn
.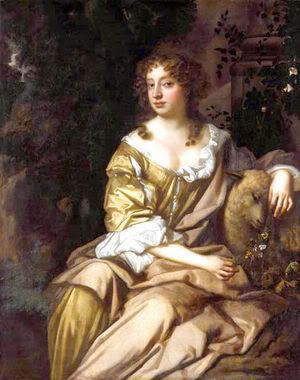 Born most likely at the beginning of February 1650 (nobody seems to know where, and not even the date is certain, only likely) her first appearance at what would come to be known as
Theatre Royal, Drury Lane
was at the age of 14, selling oranges and other treats to the patrons - including, quite possibly, herself. Her first recorded treading of the boards was in 1665, in a play by
John Dryden
, under the tutelage of her first prominent love, the actor
Charles Hart
.
Later that year and early in the next, as the
Great Plague
ravaged London, Gwynne travelled with the court as a member of the
King's Company
, which entitled her to the great honour of wearing His Majesty's livery; fire in London in
September 1666
probably prevented her return there, and she seems to have lived in Oxford during this time.
In 1667
George Villiers, 2nd Duke of Buckingham
was eager to wean the King off of his current favourite mistress, Buckingham's cousin
Barbara Palmer
(who had anyway peeved the Queen,
Catherine of Braganza
) and so introduced him to both Gwynne and
Moll Davis
, who quickly became rivals for the King's affection. By hook or by crook, Gwynne seems to have prevailed by 1668, reportedly with the intervention of Aphra Behn and some powerful laxatives - a scene right out of Restoration comedy.
Gwynne made a brief, daring return to her stage career, but in May 1670 gave birth to the King's son
Charles
, and by 1671 she was once again retired from the stage at the ripe old age of 21. Which was all to the better, as she now had to fend off another challenge for the King's attention - this time from one of the Queen's maids,
Louise de Kérouaille
.
It was during this time that she was accosted in her carriage while driving through Oxford; mistaken for the King's Catholic mistress, de Kérouaille, she blithely leaned out the window and uttered her most famous line: 'Good people, you are mistaken; I am the
Protestant
whore.' Thereafter they left her alone, since (then, as now) the English have a great respect for anyone with a sense of humour about themselves. Another great quip has survived the predations of history; she broke up a fight in which her coachman was defending her honour by saying 'I
am
a whore. Find something else to fight about.' Once again, it worked.
On Christmas Day 1671 Gwynne gave birth to a second son by the King, James Beauclerk, who died mysteriously at school in Paris in 1680, aged 9. The King himself died in 1685, and two years later in March of 1687 she suffered a stroke, which left her paralyzed. A second stroke in May confined her to bed, and she made out her will in July.
Nell Gwynne died on this day in 1687, aged 37; she was buried in
St Martin-in-the-Fields
, in
Trafalgar Square
, following a funeral at which the
Archbishop of Canterbury
delivered the sermon. Not bad for a girl with shady origins who used her dodgy profession to sleep her way to the top...
*
share on:
facebook