Already founder and President of one the world's largest charities -
The Prince's Trust
- His Royal Highness The Prince of Wales has begun to shoulder some of the responsibilities of monarchy, such as investitures and overseas trips on behalf of British and Commonwealth interests, in his mother's name - such as at the 65th anniversary of the
D-Day Landings
in June 2009.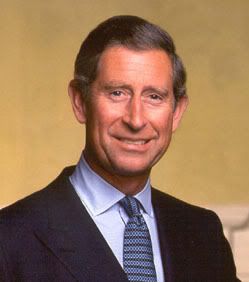 His main job, though, over the past ten years has been that of father to his two sons; a secondary job (some might call it the primary one) has been the resuscitation of his own image from the dire state it was in following the death in
August 1997
of his ex-wife
Diana, Princess of Wales
. Their acrimonious divorce, with its tit-for-tat adulteries and his-and hers tell-all book/documentary combos left the acrid taste in everyone's mouth that generally accompanies the very worst kind of gossip.
Even an unrestrained monarchist such as myself has seen the utter necessity of this exercise, as The Prince of Wales has never really connected with the public, which is the most vital element in the maintenance of a constitutional monarchy.
Born on this day in 1948 to universal acclaim, his birth was the second bright spot post-war Britain had following the cessation of hostilities following World War II, the first being his parents' marriage one week shy of a year earlier. Yet the child Charles was homely and shy, bullied at school and unwilling to defend himself except with petulance; he grew into a somewhat bitter adult, alone amongst his siblings in criticizing his parents for what he claims is the cold, distant upbringing they provided him.
Once the most eligible bachelor in the world, thanks to his love for sport he eventually grew into his looks, and by the time of his first marriage in
July 1981
it seemed like the public might come to like him after all; by the birth of
Prince Harry
in September 1984, though, the fairytale was in trouble, his earlier affair with
Camilla Parker Bowles
was rekindled, and inasmuch as hindsight tells us it was prescience on his part, he embarked on an off-putting campaign (nay, a crusade) on behalf of both the natural and built environments, championing organic farming and criticizing modern architecture in equal measure.
In
April 2005
, with the support of Queen and Parliament (if not all of the Country), Camilla made an honest man of him, just the latest in a series of extreme measures seemingly designed to save the monarchy from the Heir to the Throne. Keeping in mind that William is waiting in line, right behind him. Let's not ever forget that, people. Diana's son won't ever get to be King if Charles doesn't go through it first; is that what you want? I didn't think so.
(
Can I have my
OBE
now?
)
*
share on:
facebook