Erudite and multi-lingual, Queen Sofia of Spain (born on this day in 1938) has been a constant, serene presence at the side of her husband King
Juan Carlos
during turbulent times...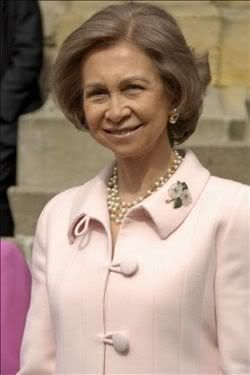 Born in Athens the eldest child of King
Paul I of the Hellenes
and his wife Queen
Fredericka
, Sofia's childhood witnessed the many travails which have beset that royal house from its inception in 1863 (the main one being, of course, that they are Danish and therefore merely squatters). A great deal of uncertainty shaped Her Majesty's childhood, including two bouts of exile, the first one during World War II and finally, for good, in 1964 (which, naturally, didn't affect her, except as a family matter).
Yet with the fortitude (or sense of entitlement) which is a family trait of the House of
Schleswig Holstein Sonderburg Glücksburg
, she ended up not doing too badly for herself. In 1954 she met and enchanted then-Prince Juan Carlos on a Mediterranean cruise, she competed in the 1960 Olympics (representing Greece in sailing), and in 1962 she married her Prince, who assumed the throne in 1975 after the death of Francisco Franco.
Since then she has concerned herself with charity, the rightful occupation of royalty. Through her
Foundation
she carries out numerous engagements, and is in particular interested in refugee relief, the treatment of drug addiction,
fine arts
, and micro-finance (working closely with
Muhammad Yunus
the Nobel laureate in the process).
*
share on:
facebook