A long time ago, when I still sold CDs for a 'living', I can remember pondering what exactly it was that set a pop vocalist apart from a jazz vocalist; at that time, the distinction seemed to me to be the degree with which the vocalist used his or her voice as an instrument. While Anita O'Day had a voice as clear and lovely as someone like
Dinah Shore
, the former's breath and phrasing set her entirely apart from the latter...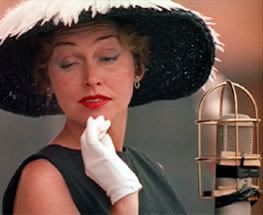 On the strength of her voice alone, then, Anita O'Day was a consummate jazz musician, of the kind that dominated mid-century popular music; it was a distinctive contralto, utterly lacking in vibrato, which was at its best in short phrases rather than held notes, which set her apart from the pack almost as much as the fact that she was white when all of her peers were black.
O'Day began her career as a vocalist in
dance marathons
, those grueling feats of endurance that were such a part of the Depression-era world that they were eventually banned in many jurisdictions for their brutality, even though the poverty that caused them wasn't (and, indeed, is still with us). Graduating into clubs, first as a chorus girl, then as a 'girl singer' - an interchangeable vocalist a band would hire for as little as a single night - by the early 1940s she began to catch the ears of such bandleaders as
Gene Krupa
and
Stan Kenton
. The most productive years of her career were 1952-62, during which she was signed to the legendary
Verve
label.
As her star ascended into the showbiz firmament, though, her life descended into heroin addiction, culminating in a near overdose in 1968; coming clean, she continued to perform at jazz festivals and in 1981 wrote her memoirs
High Times, Hard Times
. She lived for her art, and lived pretty hard at that, to the extent that when she died (on this day in 2006, aged 87) it seemed like a kind of miracle that she could have lived half that long. Today, her performances of such jazz standards as
Skylark
,
And Her Tears Flowed Like Wine
, and
Let Me Off Uptown
stand as an enduring testament to the talent and appeal of Anita O'Day.
share on:
facebook