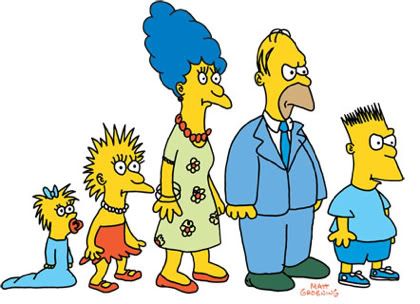 [

That the Simpsons have evolved over their record-breaking run is evident in this image of them from their earliest appearances.

]
920 CE
-
Romanos I
was crowned co-emperor alongside the underage Emperor
Constantine VII
; he then married his daughter
Helena Lekapene
to the pre-teen monarch over the objections of the boy's mother,
Zoe
, who was so formidable she went from the concubine of
Leo VI
to Empress and thence to being the regent of the
Byzantine Empire
on her son's behalf.
942 CE
- Normandy's Duke
William I
was assassinated by supporters of
Arnulf I
, Count of Flanders.
1538
- Pope
Paul III
excommunicated
England's King
Henry VIII
.
1586
-
Go-Yozei
became
Emperor of Japan
following the abdication of his grandfather Emperor
Ōgimachi
.
1600
- France's King
Henry IV
married
Marie de' Medici
following the annulment of his marriage to
Marguerite de Valois
.
1807
- Napoleon issued the
Milan Decree
in order to enforce the
Berlin Decree
, which had initiated the
Continental System
, whereby the French Emperor hoped to ruin England's economy by forcing the rest of Europe to undertake a trade embargo against them. The entire thing backfired, not only hurting Europe but strengthening the British Empire into the bargain.
1819
-
Simón Bolívar
declared the independence of the
Republic of Gran Colombia
in Angostura - now the Venezuelan city of
Ciudad Bolívar
.
1862
- Union General
Ulysses S. Grant
issued
General Order No. 11
, expelling all Jews from Tennessee, Mississippi, and Kentucky; although he issued the order to stop the smuggling of cotton - which he blamed on the Jews - he later disowned it, claiming it had been drafted by an underling and that he had signed it without reading it.
1865
- The first performance of
Franz Schubert
's
Symphony No. 8
(best known as his
Unfinished Symphony
) was given in Vienna, under the direction of
Johann Herbeck
- 37 years after its composer's death.
1918
- During the the so-called
Darwin Rebellion
as many as 1000 members of the
Australian Workers' Union
, led by
Harold Nelson
, marched on
Government House
in the capital of Australia's Northern Territory, Darwin; once there they burnt an effigy of
John Gilruth
, demanding his resignation from the post of
Administrator of the Northern Territory
. Gilruth later fled the town onboard
HMAS

Encounter
.
1935
- The
Douglas DC-3
airplane - engineered by a team led by
Arthur E. Raymond
- made its maiden flight; the DC-3 would revolutionize cross-country commercial aviation in America, reducing the east-west flight from more than 32 hours in 1934 to under 15 by 1936, as well as providing sleeping berths and an onboard kitchen.

1967
- Australia's Prime Minister
Harold Holt
went for a swim
near
Portsea, Victoria
- and never came back; while there are
numerous theories
as to what happened to him, for a
satirical take
on the tragic event, only
Shaun Micallef
's
The Micallef Program
will do.
1969
- The US Air Force closed its investigation of UFOs, called
Project Blue Book
, after 17 years of study found no credibility in thousands of sightings.
1973
- 30 passengers were killed in an attack at Rome's
Leonardo da Vinci Airport
when
Palestinian terrorists
threw phosphorous bombs onto Pan-Am's
Flight 110
; the plane had been destined for Beirut.
1978
- The
Workers Party of Jamaica
was founded by
Trevor Munroe
; the anniversary is only pertinent because the party is now defunct, its founder has since renounced Marxism, and I felt like gloating over a failed Marxist movement because that's what I'm like.
1981
- US Brigadier-General
James L. Dozier
was kidnapped by Italy's left-wing
Red Brigade
in Verona; he was rescued during a raid on an apartment in Padua 42 days later.
1983
-
Harrods
was
bombed
by the
IRA
, killing six and injuring 90.
1989
- Originally a series of shorts on
The Tracey Ullman Show
(beginning in April 1987)
The Simpsons
characters were given their own show on Fox; that show's first episode,
Simpsons Roasting on an Open Fire
, debuted on this day.
Currently in its twentieth season, it is both the longest-running animated series in American prime-time, as well as the longest-running sitcom in American history.
1999
- The
United Nations General Assembly
passed Resolution 54/134 designating November 25th thereafter as the annual
International Day to Eliminate Violence Against Women
.
*
share on:
facebook