Born on this day in 1898, Irene Dunne was one of the most beloved film stars of the Thirties and Forties; her career began and ended in the theatre, and Hollywood was little more than a diversion for her. 'I drifted into acting and drifted out,' she once told an interviewer. 'Acting is not everything. Living is.'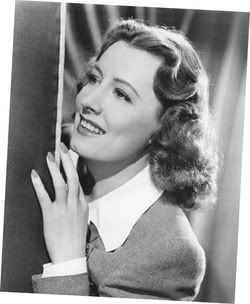 An early role in
Cimarron
(1931) - only her second movie - earned her the first of five Academy Award nominations (none of which she won); Dunne is often cited as the best actor to never win an Oscar, which puts her in company with
Alfred Hitchcock
, the best director who never won one either. She also distinguished herself in, among others:
Back Street
(1932),
The Age of Innocence
(1934),
Roberta
(1935),
Show Boat
(1936),
My Favorite Wife
(1940),
Penny Serenade
(1941),
Anna and the King of Siam
(1946),
Life with Father
(1947), and
I Remember Mama
(1948). Her last film role was
It Grows on Trees
(1952).
Most memorably, though, she appeared in
The Awful Truth
(1937) with
Cary Grant
and
Ralph Bellamy
, a film which has been screened more times than I can count at the
Pop Culture Institute
; this near-perfect
frisson
of passion and whimsy features the ideal element for romantic comedy which, alas, is too often missing from it - namely witty banter.
Dunne died in September 1990, at the age of 91.
*
share on:
facebook