As far as reading is concerned, I guess you could call me pretty lucky; the novels I was 'forced' to read in school (as if I
ever
had to be forced to read,
especially
in school) are today some of my all-time favourites. Surprisingly, this was not the experience of most of my friends...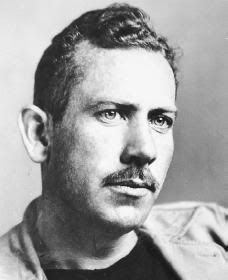 Among the formidable works I assayed in Mrs. Horsfall's class -
1984
,
To Kill A Mockingbird
, and
The Tin Flute
to name just three - one in particular stands even above these masterpieces in my recollection: John Steinbeck's
Cannery Row
(1945). As an exile from the West Coast in the cultural (not to mention meteorological) aridity of Saskatchewan I often found myself gasping for moisture; opening the front cover of
Cannery Row
for the first time, then, was akin to peeling a grapefruit in the shower.
It isn't a vast sweeping epic in the sense some of his works -
The Grapes of Wrath
(1939) or
East of Eden
(1952), for instance - are; it's a slice of life rich in characterization - not unlike
Tortilla Flat
(1935) or
The Wayward Bus
(1947) - yet even more sensitively rendered than they. Its sequel,
Sweet Thursday
(1947), finds the same characters the same number of years older as their author - some jaded, some embittered, some the same old happy-go-lucky - and provides a bittersweet bookend to its predecessor.
John Steinbeck's career, naturally, extended into the movies;
Of Mice and Men
(1939),
The Grapes of Wrath
(1940),
Tortilla Flat
(1942),
The Red Pony
(1949)
, East of Eden
(1955),
The Wayward Bus
(1956), and
Cannery Row
(1982) were all adapted for the cinema before
Of Mice and Men
was
remade
in 1992. In addition, he wrote an original screenplay for
Alfred Hitchcock
entitled
Lifeboat
(1944).
Winner of the
Pulitzer Prize
for
The Grapes of Wrath
, in 1962 John Steinbeck was also awarded the
Nobel Prize for Literature
; plus, as the image shows, he was a handsome devil - which is surely the sweetest prize of them all. He died on this day in 1968.
*
share on:
facebook