When considering the Bhutto family legacy thus far, the most important distinction to make is: is a corrupt albeit democratically elected leader better, the same as, or worse than, a dictator? Certainly the followers of the lying murderer General
Muhammad Zia-ul-Haq
felt the same about Bhutto the father as the followers of equally weaselly General
Pervez Musharraf
did about his daughter
Benazir
. So was the voicing of those concerns legitimate worry about widespread corruption in the government of Pakistan, politicking, or merely two-faced scoundrelism on their part? In both cases, though, at least the Bhuttos (and their alleged corruption) had been elected by an expression of popular will, while their harshest critics were (and are) little more than gun-toting thugs.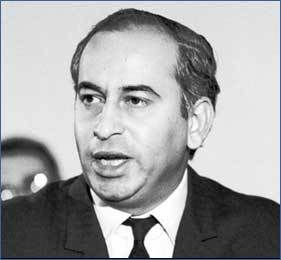 Bhutto was born on this day in 1928, when Pakistan was still a part of
British India
; his father, Sir
Shah Nawaz Bhutto
, was prominent in Muslim politics, and served as Prime Minister under the Nawab of
Junagadh
. Bhutto was one of the wealthiest landowners in the province of
Sindh
, Western-educated and erudite in the family tradition, as would be his son and grand-daughter.
First a teacher, then a lawyer, in 1957 Bhutto became the youngest member of Pakistan's delegation to the United Nations, and by 1961 was serving as Foreign Minister under President Muhammad
Ayub Khan
.
Now prominent in the life of Pakistan in his own right, Bhutto founded the
Pakistan Peoples Party
(PPP) in
November 1967
. Following massive anti-government protests sponsored by PPP, Bhutto was arrested in November 1968; after his release and the fall of the government, the new President, General
Yahya Khan
, promised free elections in December 1970, at which PPP won some seats, but in which victory was claimed by the
Awami League
, with whom Bhutto refused to work. Following the attempted genocide of
Operation Searchlight
against
Bengali
nationalism,
war with India
in
December 1971
, and the independence of
Bangladesh
(formerly East Pakistan) Yahya Khan resigned, transferring power to Bhutto.
As President, Bhutto met with Indian Prime Minister
Indira Gandhi
, and together they signed the
Shimla Agreement
; despite his work at peace, Bhutto was also the founder of
Pakistan's nuclear program
, today probably the greatest threat to peace in the world. In
August 1973
Bhutto turned over the presidency to
Fazal Ilahi Chaudhry
, and assumed the title Prime Minister.
By 1977 it was time to hold elections, elections which would prove to be Bhutto's downfall in more ways than one; facing the
Pakistan National Alliance
(PNA), a coalition of parties opposed to Bhutto, the PNA was defeated at the polls, at which time they maintained that the elections had been rigged, and Muslim opposition leader
Maulana Maududi
called for Bhutto's overthrow. In
July 1977
Bhutto and his cabinet were arrested.
In October Bhutto went on trial for the 'conspiracy to murder'
Ahmed Raza Kasuri
, and in March 1978 he was sentenced to death, a sentence which was carried out the following month, despite international condemnation. Bhutto himself went to the gallows insisting that his death had been ordered by the US government, which threat (he said) was first delivered to him by then-Secretary of State
Henry Kissinger
, voicing opposition by the US Administration to the nuclear program Bhutto had instigated.
Bhutto's legacy today is as complicated as the man himself; hailed as a nationalist and
Shaheed
by his supporters, he continues to be reviled as a corrupt opportunist by his foes.
*
share on:
facebook