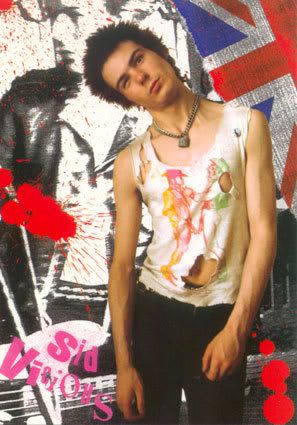 When, in
October 1978
, Sid Vicious awoke from a heroin-induced stupor to find his girlfriend
Nancy Spungen
dead on the floor of the bathroom in room 100 of New York's notorious
Hotel Chelsea
, he claims to have had no memory of what might have happened the night before... Nevertheless, he was arrested for her murder, and escorted forthwith to
Rikers Island
.
Eventually his mother, Anne Beverley, was able to raise the $50,000 needed for bail from Virgin (his record label) and he was released from jail on the first day of February. At a celebratory party at the home of his girlfriend Michelle Robinson his mother (herself a registered addict) had also managed to score some heroin.
Remarkably - miraculously even, all things considered - Vicious had been able to get clean while in jail; on the outside he lasted less than a day. Although he'd been off the stuff for some months, and knew that what he was getting was incredibly pure, the small amount he took was enough to kill him.
Despite attempts to revive him, Vicious
succumbed
to an overdose at just after 3 AM on this day in 1979.
*
share on:
facebook