Gene Kelly was a late-bloomer in show business terms; he didn't make his Broadway debut until he was 26 - an age when many of his younger costars would have already been grizzled veterans; the year was 1938, and he'd been cast to support
Mary Martin
at the
Imperial Theatre
on Broadway in
Cole Porter
's
Leave It to Me!
during her big number,
My Heart Belongs to Daddy
.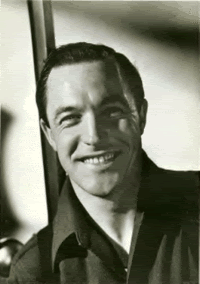 Perhaps that's why he always seemed so fresh-faced, so innocent in his later film roles; certainly a tendency towards boyishness helped, but I think having been allowed to spend his youth as a youth instead of growing up fast and hard might on the road may have just as easily been the reason...
From the bottom of the bill in 1938 Kelly had a supporting role in
William Saroyan
's Pulitzer Prize-winning drama
The Time of Your Life
in October 1939, then went straight to the top of the bill in his next show - appearing as the lead in
Rodgers and Hart
's
Pal Joey
which opened at the
Ethel Barrymore Theatre
on Christmas Day 1940. It was there that Kelly wowed audiences and critics alike with an entirely fresh style of dancing, which eschewed technique in favour of mood. In a very real way, Gene Kelly may have been the first person to marry dancing with acting - in a manner that is commonplace nowadays in every genre from rock video to ballet, but which in those days represented nothing short of a revolution.
By this time Hollywood wasn't just beckoning, it was begging, and Kelly went West; his first film was the superlative
For Me and My Gal
(1942) with
Judy Garland
. Over the next decade he made a string of musicals, many of which are considered the finest ever made:
Du Barry Was a Lady
(1943) opposite
Lucille Ball
,
Cover Girl
(1944) with
Rita Hayworth
, and the uber-patriotic
Anchors Aweigh
(
1945
) in which he danced with the animated cat-and-mouse
Tom and Jerry
.
The Pirate
(1948) was a bit too avant-garde for the bourgeois moviegoers of the 1940s, and was one of the only 'bombs' of Kelly's early career; the movie is now considered not merely a classic but among his finest, and also showcases
The Nicholas Brothers
at their prime.
Summer Stock
(1950) is a minor classic well worth the watch if for no other reason than it is Judy Garland's last picture for MGM, and features her in top form (despite the turmoil her psyche was in while making it); Kelly's poise was remarked upon throughout the industry as he managed to keep both the production - and Garland - on track.
An American in Paris
(1951) is a tad bloated, and thus a delight for movie gourmands. Kelly's masterwork, though, is
Singin' in the Rain
(1952); it represents nothing less than the glory of glories (and I haven't even mentioned
Thousands Cheer
(1943),
On the Town
(1949), or
Take Me Out to the Ball Game
(1949) to name just three).
With nowhere to go but down that's where he went, but his natural class and aplomb made it a gentle ride; he still had a few good performances left, such as in the disturbing, beautiful, and thus disturbingly beautiful,
Brigadoon
(1954). Yet even as the musical was evolving into a distended parody of itself, Kelly managed to find it in himself to make one more great one;
Les Girls
(1957) featured moody photography, ambitious subject matter, and all the charm of the man himself.
By the time of his death, on this day in 1996, Gene Kelly was one of the most beloved performers in the world; people whose parents weren't alive when he was creating his legendary dance numbers flocked to his side whenever he appeared in public. The French, whose culture he idolized, reciprocated his affection with ardour, lavishing him with critical praise and awards, including the Chevalier of the
Legion d'Honneur
. A lifelong supporter of progressive causes, it can be truthfully said that all his considerable energy was devoted to the improvement of the things he loved.
*
share on:
facebook