For Me and My Gal
(1942) - In true passive-aggressive style, Hollywood couldn't just up and call for America's entry into World War II; instead, in the months leading up to the
December 1941
Attack on Pearl Harbor it released movies like this one - set during World War I when America, faced with a German menace, sang and danced for freedom. Subtle. Looking luminous in black and white (as photographed by
William H. Daniels
) and under the still-steady hand of director
Busby Berkeley
, Kelly and costar
Judy Garland
suit each other to a T.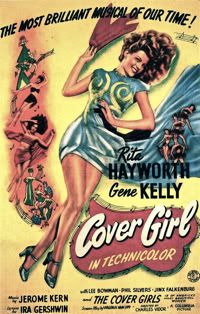 Cover Girl
(1944) - As good as he looked in black and white, Gene Kelly fairly glowed in colour; not that you'd know it from watching this filmic outing, seeing as whenever he's on camera he's standing too close to the supernova that is
Rita Hayworth
to be seen. Given almost complete creative control over the film, Kelly gave himself an opportunity to dance with his own reflection. With
Phil Silvers
and
Eve Arden
- on hand as much for comic relief as to cleanse the palate -
Cover Girl
is moodier and more atmospheric than the average musical, which makes it ideal for people who crave eye-candy but are uncomfortable with movie characters suddenly breaking into song. Directed by
Charles Vidor
, the film features songs by
Jerome Kern
and
Ira Gershwin
, including the classic
Long Ago (and Far Away)
.
On the Town
(1949) - One of my favourite movies of all time,
On the Town
reteams Kelly with his
Anchors Aweigh
costar Sinatra, in addition to
Ann Miller
,
Betty Garrett
,
Jules Munshin
, and
Vera-Ellen
, which doesn't merely add to the talent but multiplies it, or possibly does some of that algebra stuff to it. The point is, the whole adds up to so much more than the sum of its parts. The real star of the film, of course, is New York City; many principal scenes were shot on location there - a major innovation for the time - including at the
American Museum of Natural History
, the
Brooklyn Bridge
, and
Rockefeller Center
.
An American in Paris
(1951) - With a glittering score by
George Gershwin
, the full MGM design team on overdrive, and dances choreographed by Gene Kelly, how could this movie be anything but sublime? Fortunately, we'll never have to answer that because a) it's a rhetorical question, and b) it really is sublime. Kelly's love for French culture is evident in every frame, and surely Paris - even at its loveliest - could never have been this lovely.
Brigadoon
(1954) - As musicals go,
Vincente Minnelli
's
Brigadoon
doesn't; where musicals are supposed to be bright and frothy and tow the establishment line,
Brigadoon
is dark and downbeat and subversive. Mean-spirited even. Which must be why the lovers of musicals with a cynical bent have always treasured the story of the Scottish town that only comes to life once every century.
share on:
facebook