That Lady Jane Grey was a pawn, sacrificed to the ambition and greed of her father the
Duke of Suffolk
, is blatantly obvious to most historians and scholars of the Tudor period today; in fact, it must have been pretty clear to all but the most blood-thirsty Catholics even then. Nevertheless, for having Protestant forces raised in her name, and for having had them do battle against the rightful heir - as named in the 1543
Act of Succession
- on this day in 1554 the condemned traitor was led to
Tower Green
. In a touching show of respect by the Queen, whose throne she had sought to usurp, Jane was afforded a private execution; the same courtesy was not offered to her husband Lord
Guildford Dudley
earlier that same day, who met his fate before the howling rabble on
Tower Hill
like so many others before and since...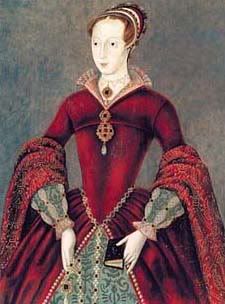 Such was the misogyny of the times that not even her birth date has been recorded; this despite her having been both noble (her grandmother was
Henry VIII
's sister
Mary
- widow of France's
Louis XII
- her grandfather the English King's best friend
Charles Brandon
) and, for those fabled nine days in 1553 at least, the best hope England had to avoid the sectarian strife which eventually came about under the reign of
Bloody Mary
, beginning with the execution of Jane herself.
Sadly, there's no credible evidence that any of the portraits thought to be of her (including this one) actually depict her; this matter is discussed entertainingly - and at predictable length - in an
article
by Cynthia Zagan which appeared in an October 2007 issue of
The New Yorker
.
Yet despite what little we do know about her, interest - and therefore scholarship - proceeds undaunted; trust
Alison Weir
to have dug into the story afresh and come up with an engaging new take on an old tragedy in her
2007 book
Innocent Traitor
. In the end it seems to be the lack of information surrounding Lady Jane Grey which imbues her and her tragic story with a kind of emotional credibility that should - but doesn't need to - be backed up by facts for maximum impact.
Following the separation of their heads from their bodies Jane and Guildford were buried in the Chapel of
St Peter ad Vincula
within the
Tower of London
; in the end Suffolk outlived his daughter by a week, when he was executed both for his role in the earlier
Wyatt's rebellion
and his more recent efforts on behalf of his offspring. Within a month after her family was doubly riven by execution Jane's mother - the formidable
Lady Frances Brandon
- married her chamberlain
Adrian Stokes
and was never heard to mention either of their names again.
Although the 16 or 17 years of the life of Lady Jane Grey have always served as a subplot within the panoply of the Tudor era, in 1985 she was given her rightful place at the centre of her own saga in the

film Lady Jane,

played as she was by the brilliant

Helena Bonham Carter

.
*
share on:
facebook