[Behind this view of modern Santiago is a fanciful image
of the city's founding, painted by Pedro Lira in 1889.]
On this day in 1541 Spanish conquistador Pedro de Valdivia (
shown, below left
) founded what would become the capital of and largest city in Chile on Huelén Hill (later renamed
Cerro Santa Lucía
); originally called
Santiago del Nuevo Extremo
- as an homage to both
St. James
and
Extremadura
, Valdivia's birth place in Spain - the site, straddling the
Mapocho River
, was chosen for its abundant vegetation, level elevation, and the ease with which it could be defended.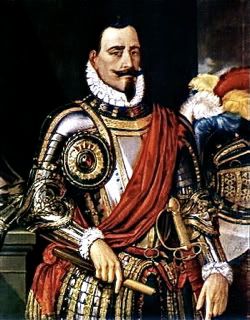 Construction on the site initially began with the assistance of the region's
Picunche
people, following the rigourous grid system favoured by colonial Spain; that assistance rapidly turned to hostility, and in
September 1541
the city was attacked and destroyed by
Michimalonco
and an army of
Mapuche
. In de Valdivia's absence the defense of the city was left to his lover,
Inés de Suárez
. Although nearly successful in ridding the region of the Spanish, the colonists rebuilt and persevered despite food shortages and a scarcity of mineral wealth for trade. The city even received its own
coat-of-arms
, in April 1552.
Following the
Disaster of Curalaba
in December 1598 - in which the Mapuche, led this time by
Pelantaru,
attacked Spanish settlers in southern Chile, taking hostage the head of the governor,
Martín García Óñez de Loyola
- any Spaniards arriving in the region stayed put in Santiago, swelling the city's resident population exponentially.
The 17th and 18th Centuries passed with the occasional skirmish, a growth in trade, and the inevitable earthquakes - one in May 1647, the other in July 1730 - and following the
War of Independence
(1810–18) Santiago was named capital of the nascent republic. While still a small city, built around
Joaquín Toesca
's magnificent 1784
Palacio de La Moneda
, Santiago began to grow into the largest conurbation in Chile and home to almost one-third of all Chileans.
Aside from the occasional earthquakes, the most earth-shattering thing to happen in Santiago in the modern era was the election of
Salvador Allende
in
September 1970
and the subsequent coup - orchestrated by General
Augusto Pinochet
three years later, on the 432nd anniversary of
Michimalonco
's earlier attack. The Pinochet Regime was among the worst in living memory, surviving through torture and censorship until its inevitable defeat by a center-left coalition calling itself
Concertación
in
October 1988
.
Today, while it is the financial capital of Latin America, Santiago is faced with the usual problems of urbanization - namely smog, slums, and sewage; still, the past twenty years of democracy have rendered it a
lively place
for tourists, with the
Santiago Metro
the most extensive in South America.
*
share on:
facebook