Following the death of her husband,
Francis II
, in December 1560 Mary, Queen of France, was all of 18; unsure of what to do (and uncertain if she would even be welcome there) she returned to Scotland via Calais in August 1561, to resume her role as Queen of Scots - a position she had held since she was six days old in a realm she had not seen for a dozen years...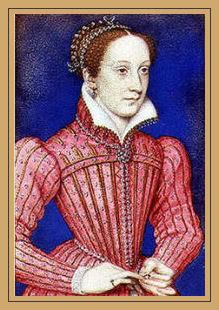 After life at the glamourous French court, the considerably earthier tone of the land of her birth was something of a disappointment to her. She became instantly unpopular upon her arrival; bad choices (and
terrible instincts
regarding men) led to Mary's downfall by May 1568, when she was captured by the English at Carlisle. She would remain in captivity for the remaining eighteen years of her life, at first under the stewardship of the
Earl of Shrewsbury
and his formidable Countess
Bess of Hardwick
, and later
Sir Amias Paulet
.
Elizabeth I
was famously merciful when it came to her erstwhile cousin and would-be usurper; to her mind an anointed Queen was put on Earth by God, and could thus only be removed from it by Him. Presented with ample evidence time and again of Mary's plotting, Elizabeth quailed at the idea of executing her, to the considerable consternation of her
spymaster
Sir Francis Walsingham
, although she did see her rival interned at the damp, ill-situated
Sheffield Castle
and its nearby
Manor
, weakening her health considerably in what could be considered a passive-aggressive assassination attempt.
It was not until the discovery of the
Babington Plot
, however, that Elizabeth would consent to even putting Mary on trial. Not that the outcome of the trial was ever in question; Mary Stuart was to be found guilty of treason even though she refused to accept the legitimacy of the court or the Queen in whose name it passed the ultimate judgement.
Shortly after 8 AM on this day in 1587 Mary, Queen of Scots, wrapped herself in her black cloak and calmly approached the block at
Fotheringhay Castle
; dramatically throwing off that cloak she revealed beneath it a dress of vivid red, the colour of Catholic martyrs. Kneeling, she forgave her executioner who, in front of some three hundred witnesses, sank his ax into her neck inadequately, and she was heard to gasp. A second blow (some eyewitnesses said it took a third) did the job, and as he held her head up it slid out of the wig she had worn and bounced off the dais.
It seems apt, that; a hapless end to a woman whose
hauteur
had caused her people to turn against her, whose blundering had brought about her arrest, and whose intrigues had caused not only her July 1567 abdication but ultimately also her death. Yet the indignities continued; the fear of relic seekers caused her body to remain embalmed but unburied in its lead coffin for more than six months, before it was finally interred (in the middle of the night) at
Peterborough Cathedral
on the penultimate day of July 1587. She was finally removed to
Westminster Abbey
by her son,
James VI and I
, in 1612, where she lies today, across the aisle from the cousin she longed to meet but never did, who saved the life of one Queen by taking the life of another.
The best account of the life of Mary, Queen of Scots, was written by Lady Antonia Fraser - who is herself no stranger to the scandalous life - in 1969.

*
share on:
facebook