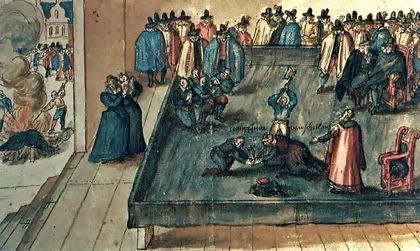 [

The execution of Mary, Queen of Scots, has long fascinated storytellers - likely because Her Majesty's own flair for the dramatic was very much on display that morning; emerging from her chamber shrouded in black and clutching a Bible, once on the dais

she threw off her cloak to reveal a crimson dress and a vast expanse of white neck and shoulder, to audible gasps... And that was just for starters! The most vivid portrayal of this moment in history I've ever seen was enacted by

Samantha Morton in the 2007 film Elizabeth: The Golden Age; only time will tell if Scarlett Johansson

can go her one better when she becomes the latest in a string of beautiful ladies to assay the role.

]
421 CE
-
Constantius III
became co-Emperor of the
Western Roman Empire
alongside his brother-in-law
Honorius
, having married
Galla Placidia
in 417 CE.
1587
-
Mary, Queen of Scots
was executed
at Fotheringhay Castle
for suspicion of having been involved in the
Babington Plot
to murder her cousin, England's
Queen
Elizabeth I
.
1601
-
Robert Devereux, 2nd Earl of Essex
, marched out of London's
York House
at the head of an army determined to force an audience with
Elizabeth I
- as vividly depicted in the
2005 miniseries
Elizabeth I
, in which Essex was played by
Hugh Dancy
and the Queen by
Helen Mirren
.
The abortive Essex Rebellion was quickly crushed and Essex was tried, convicted, and executed for treason within three weeks.
1807
- Following the
Battle of Eylau
Napoleon defeated a Russian army under
General
Count von Benigssen
.
1817
-
Juan Gregorio de las Heras
crossed the Andes
from Argentina with an army to join
José de San Martín
in liberating Chile from Spanish rule.
1855
-
The Devil's Footprints
mysteriously appeared in southern
Devon
.
1879
-
Sandford Fleming
first proposed the adoption of
Universal Standard Time
at a meeting of the
Royal Canadian Institute
in Toronto.
1887
- The
Dawes Act
authorized the President of the United States to survey Native American tribal land in Oklahoma and divide it into individual allotments. Named for Massachusetts Senator
Henry L. Dawes
, the act was amended in 1891 and again in 1906 by the
Burke Act
; it remained on the books until 1934.
1904
- The
Battle of Port Arthur
- a surprise torpedo attack by Japanese Admiral
Heihachiro Togo
and Vice Admiral
Shigeto Dewa
against a Russian fleet commanded by
Oskar Victorovich Stark
and anchored at China's
Port Arthur
- incited the
Russo-Japanese War
.
1915
-
D.W. Griffith
's controversial film
The Birth of a Nation
(based on
Thomas Dixon
's novel-cum-play
The Clansman
) had its world premiere in Los Angeles; the film glorifies that fine Christian organization the
Ku Klux Klan
and their efforts to protect the flower of white womanhood from the black man, yet offers no solutions as to how to protect those same women from their far more dangerous white male relatives.
1949
-Hungary's
Jószef Cardinal Mindszenty
was sentenced to life in prison for having committed treason against that country's Communist government, which exacted 'proof' of his treason under torture. He remained imprisoned until the
Hungarian Revolution of 1956
.
1952
-
Elizabeth II
proclaimed herself
Queen of the United Kingdom in a ceremony at
St. James's Palace
in London.
1962
- At the so-called
Charonne Massacre
9 trade unionists were
killed by police
at the instigation of Nazi collaborator
Maurice Papon
, then chief of Paris'
Prefecture of Police
.
1969
- The
Allende Meteorite
fell near Pueblito de Allende, in Mexico's
Chihuahua
state.
1974
- After 84 days in space, the crew of the first American space station
Skylab
returned to Earth; Skylab itself joined them in July 1979, when it famously burned up following re-entry of the Earth's atmosphere and scattered debris on the town of
Esperance
in
Western Australia
.
1983
- A
dust storm
hit Australia's second largest city, Melbourne - a result of the worst drought on record and following a day of severe weather conditions; within an hour the 320m deep dust cloud had
enveloped the city
, turning day to night, and serving as an ominous precursor to the
Ash Wednesday fires
which occurred one week later.
1986
-
Arleigh McCree
and his partner Officer Ronald Ball of the LAPD's
Firearms and Explosives
unit were killed while trying to dismantle two pipe bombs when they responded to a call in North Hollywood; at the time of his death McCree was recognized as one of the top explosives experts in the world.
1994
- London's Metropolitan Police Service
announced an investigation
into the death of
Stephen Milligan
, the Conservative MP for
Eastleigh
, who'd been found dead the previous day.
1996
- The
Communications Decency Act
, passed by the US Congress a week earlier, was signed into law by President
Bill Clinton
.
*
share on:
facebook