Canada has a tradition of creating sensitive novelists whose works are innately political yet manage to transcend politics - Stephen Leacock, Lucy Maud Montgomery, Sinclair Ross, Ethel Wilson, and Morley Callaghan to name just a few... On this day in 1909 they welcomed another into their midst - Gabrielle Roy; born in Manitoba's French-speaking enclave at
Saint Boniface
, Roy originally trained as a teacher, and was an accomplished visual artist as well as an uncommonly gifted writer.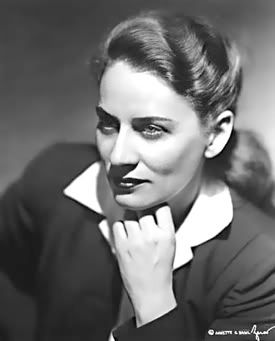 It's no surprise, then, that the picture painted in words of Montreal's hardscrabble
Saint-Henri
neighbourhood should prove so educational as to be one of the catalysts of Quebec's
Quiet Revolution
.
Bonheur d'occasion
(1945) showed Quebec to Quebeckers as few novels written in that province had before, and blazed a trail for social realism that would later be heavily trod by Mordechai Richler; when it was published in 1947 as
The Tin Flute
it did the same for English Canada, bridging the Two Solitudes as handily as Ottawa's
Pont

Alexandra Bridge
. The
novel
is half despair, half
d'espoir*
as it follows its young heroine Florentine through her crucial transition from girl to woman, using adolescence as an allegory for the struggles of Quebec in the post-war era. Never published in an unabridged form in Canada - not to mention sorely in need of a new translation - for all its faults it remains one of the finest novels ever published in this country; the three-quarters of a million copies it sold in the United States are a testament to its universal appeal.
She would publish 15 more before her death in 1983, plus an autobiography that was more candid than the standard hagiography writers typically give themselves at the point where their living career ends and their legend begins. While none of her subsequent works achieved the fame of that first one, each one exceeds the last in compassion and eloquence.
*Hope

*
share on:
facebook