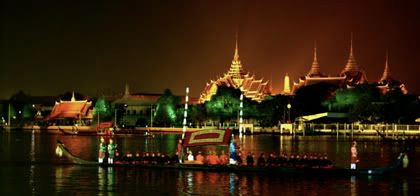 [

Located on the grounds of Bangkok's

Grand Palace

, the temple of Wat Phra Kaew contains the most precious treasure in Thai Buddhism - namely the Emerald Buddha - which only the

King

is allowed near.

]
238 CE
-
Gordian I
and his son
Gordian II
were jointly proclaimed Roman Emperor.
1622
-
Algonquian
Indians
massacred
347 English settlers at
Jamestown
- a full third of that colony's population.
1765
- Britain passed the
Stamp Act
, which introduced a tax to be levied directly on its
American colonies
without offering them representation at Westminster; reaction to the legislation was mixed - some colonists were outraged, while others were merely furious - and a new nation was born...
1784
- Thailand's
Emerald Buddha
was moved with great ceremony to its current place in
Wat Phra Kaew
.
1849
- Austrian forces commanded by
Joseph Radetzky von Radetz
defeated the Piedmontese of the
Kingdom of Sardinia
under
Wojciech Chrzanowski
at the
Battle of Novara
.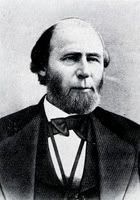 1871
- Although North Carolina Republican William Woods Holden (
shown, at left
) was the second governor of a US state to be impeached* he was the first to be removed from office because of that impeachment - which he was for attempting to limit the activities of the
Ku Klux Klan
who, during
Reconstruction
, had been denying blacks their right to vote by the various heinous methods they've been known to employ. Despite being defended by well-known attorneys such as
Nathaniel Boyden
and
William Nathan Harrell Smith
, the governor's involvement in the
Kirk-Holden War
left him on the wrong side of victory but on the right side of history**. There's a moral to the story somewhere in there I'm sure...
*Charles L. Robinson of Kansas of course being the first, in February 1862, for opposing the extension of slavery into his state during the tragic series of events known today as Bleeding Kansas.
**How different things were in the olden days, when Republicans were removed from office for fighting the good fight in support of minority rights. Maybe if a modern-day Republican wanted to wrest control of the Grand Old Party back from the Great Big Windbag (uh, Rush Limbaugh!) they could follow the example of these two men rather than the tar-hearted Cheneys and ethically-challenged Roves of the world.
1894
- The first
Stanley Cup
playoff series was won when
Montreal Hockey Club
beat the
Ottawa Generals
, 3–1.
1895
-
Auguste and Louis Lumière
held a private screening of motion pictures, a prelude to their first public showing in
December
of that year.
1916
- The last Emperor of China,
Yuan Shikai
, abdicated the throne and the
Republic of China
was restored.
1923
- Canada's legendary
Foster Hewitt
gave the first radio play-by-play in his esteemed career as a hockey announcer, or at least according to his memoirs; nevertheless, there was no scheduled game that day. The actual date of his broadcast debut was likely on February 16th, during a game between the Toronto
Argonaut Rowing Club
and the
Kitchener Greenshirts
.
1942
- In the Mediterranean Sea, Britain's Royal Navy confronted Italy's
Regia Marina
at the
Second Battle of Sirte
.
1943
- The entire population of
Khatyn
in
Belarus
was burnt alive by Nazi occupation forces.
1945
- The
Arab League
was founded when its charter was adopted in Cairo.
1975
- A fire at the
Browns Ferry Nuclear Power Plant
in
Decatur, Alabama
, caused a dangerous lowering of cooling water levels.
1978
-
Karl Wallenda
of the
The Flying Wallendas
died after falling off a tight-rope strung between two hotels in San Juan, Puerto Rico.
1979
- Opposition Leader
Margaret Thatcher
put down an
early day motion
censuring the government, which led to the defeat of the Labour government of British Prime Minister
James Callaghan
.
1989
- Goalie
Clint Malarchuk
of the
Buffalo Sabres
suffered a near-fatal injury when another player accidentally slit his throat with a skate blade in one of the most gruesome sports injuries of all time.
1997
- The
Comet Hale-Bopp
made its closest approach to Earth.
2006
-
BC Ferries
'
M/V

Queen of the North
ran aground near British Columbia's
Gil Island
and sank with 101 on board; two passengers remain unaccounted for and are presumed dead. It took two years to determine that human error was to blame.
*
share on:
facebook