Seeing as the majority of history is written by men (or had been, at least until the advent of the social history revolution of the past two decades) it's no surprise that Mary Tudor - sister of
Henry VIII
, unwilling Queen to
Louis XII
of France, lover of her brother's best friend
Charles Brandon
and eventually Duchess of Suffolk, in addition to a noted hellion whose trouble-making outlived her in the form of her daughters and granddaughters - has been all but expunged from the historical record (if and when historians had been bothered to include her in the first place). Yet as interest in the Tudors continues to grow, she is one of the many exemplary women of her age whose life and accomplishments are being rediscovered...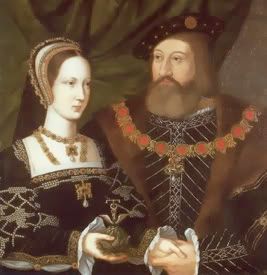 Born on this day in 1496 at
Richmond Palace
, for a long while Mary was Henry's cherished baby sister. He named his eldest daughter after her, as well as the
Mary Rose
, once the pride of the British fleet. Initially betrothed to
Charles of Castile
, the woman described as the most beautiful princess in Europe - indeed, the Dutch humanist
Erasmus
said of her that 'Nature never formed anything more beautiful' - could have become wife of the Holy Roman Emperor; instead, at the age of 18, she was sent to marry the King of France.
Royal lore has it she extracted a promise from her brother that once her political obligation was met she could marry anyone she wanted, a concession begrudgingly assented to by Henry. She then proceeded to wear out her ageing husband with lovemaking, or so the rumours have it; he died three months after their marriage without managing to impregnate her, at which point Mary was secretly wed to Charles Brandon in March 1515 when he was sent to France to bring her home. Since royalty - then as now - are the property of the State, such an act was treasonous, and could have resulted in his and hers executions; instead they were heavily fined, and in May 1515 were remarried at
Greenwich Palace
. Following their marriage she lived principally at her husband's country seat, Westhorpe Hall.
The Suffolks had three children:
Henry Brandon
,
Lady Frances Brandon
, and
Lady Eleanor Brandon
, and of these it was the middle one who gave the Crown the most grief in the years to come. Lady Frances Brandon's daughter - the ill-starred
Lady Jane Grey
- was briefly the pretender to the English throne, proving a thorn in the side of
Mary I
in much the same way (although to a much lesser extent) that
Mary, Queen of Scots
- granddaughter of Henry VIII's other sister
Margaret Tudor
- would for
Elizabeth I
.
Mary's convivial relationship with her brother became strained in the 1520s over his attempted (and eventually successful) reformation of the English church; Mary had grown close to
Catherine of Aragon
during her years at court, and was one of the first to take a strong disliking to the woman her brother had in mind to replace her,
Anne Boleyn
, whom she'd met during her brief tenure as Queen of France. Even following her death at Westhorpe Hall in June 1533 (aged only 37) she was troubled by the
Dissolution of the Monasteries
, as she was forced to quit her original burial spot at the abbey in
Bury St Edmunds
for the nearby St. Mary's Church.
Mary Brandon has been portrayed by two of the movies' loveliest stars - first, by Marion Davies
, in a 1922 silent version of
When Knighthood Was in Flower
, and again in 1953 by Glynis Johns in the Disney film
The Sword and the Rose
(which is sadly only available on VHS); both were derived from the same source material, the 1898 novel
When Knighthood Was in Flower
by Edwin Caskoden (the pen name of Charles Major). Currently she is being portrayed by Gabrielle Anwar in the Showtime series
The Tudors
, although the character there is both heavily fictionalized and a composite of Henry VIII's two sisters, Mary and Margaret.
*
share on:
facebook