In the Hollywood of the 1930s and 1940s, nothing ensured success for an actor like their ability to play a type; Edward Everett Horton's ability to portray meek, hen-pecked - even effeminate - men meant that he never lacked for work. Oh sure, he might have missed out on the overtly heroic scenes and the passionate embraces, but he also missed out on the insecurity that came along with leading roles as well...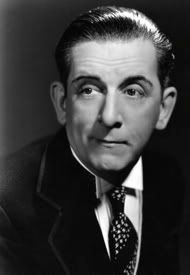 Born on this day in 1886, Horton got the usual start on Broadway and in vaudeville, but by the time performers of every kind began flooding into Hollywood in 1929 at the advent of the sound era he'd already been there for a decade, and because he was a character actor, he made the transition from silents to sound with ease.
In his heyday he had supporting roles in some of the finest films of the era, including
The Front Page
(1931),
Top Hat
(1935),
Lost Horizon
(1937)
,
Holiday
(1938),
Here Comes Mr. Jordan
(1941), and
Arsenic and Old Lace
(1944).
Like many people of my generation, though, I experienced Horton's career in reverse, having heard his narration on
Rocky & Bullwinkle
cartoons first (which he did in the 1960s towards the end of his life), and only then discovered the earlier film work which had secured his reputation.
Horton died in September 1970 at the age of 84.
*
share on:
facebook