For nearly eight decades the woman who began life in August 1900 as Lady Elizabeth Bowes-Lyon epitomized the royal way... Although born the daughter of an Earl she was nevertheless a commoner; noble, yet possessed of the common touch which was all-too uncommon among others of her class and station. Elevated to royalty upon her marriage to a shy stammering Prince, she then returned the favour by elevating royalty in the public's eyes, ironically by bringing it down out of the clouds...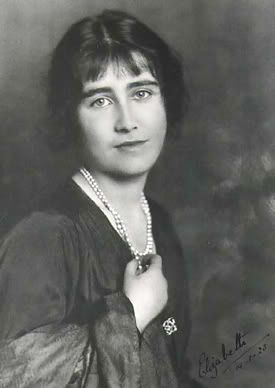 Following her marriage at
Westminster Abbey
in April 1923 - after which ceremony she laid her bridal bouquet upon the
Tomb of the Unkown Warrior
, thereby setting a precedent for all royal brides to come - she quickly became known as 'the smiling Duchess' for her benevolent demeanour during public engagements and functions of State alike. When her daughters
Elizabeth
and
Margaret Rose
were born - in 1926 and 1930 respectively - she broke the mould for being a hands-on mother; while her husband had seen his parents at most for an hour a day as a child, the Duchess of York (as she was then known) spent as many extra minutes as she could spare in the nursery.
The
Abdication Crisis
of 1936 thrust her and her husband onto the throne, a turn of events no one could have predicted and one which he himself admitted he would never have been able to handle without her assistance; yet for all her smiling and benevolence, there was concealed in her a spine of steel. As they hastily prepared for their coronation (the date of which hadn't changed when
Edward VIII
stepped aside) she helped to coach the stammer out of her husband's speech, so that as
George VI
he would be able to address his people during the difficult times which everyone knew were coming.
World War II shattered Europe even worse than had its predecessor a generation earlier; despite it, the King and Queen remained resolute. They were in residence when
Buckingham Palace
was bombed, and in her inimitable way she thumbed her nose at the entire affair simply by remaining unruffled. As a reward Hitler described her as 'the most dangerous woman in Europe', which remains the apogee of praise considering the source.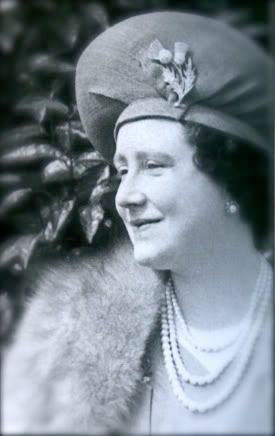 Whatever wounds the war left on Britain, it left its mark on the King as well; he died less than six years after the cessation of hostilities, in February 1952. At that time the newly styled 'Queen Elizabeth, the Queen Mother' contemplated a Victorian retirement at the remote
Castle of Mey
in Scotland; her daughter (and new sovereign) was having none of it. Though no one could have known it at the time, the dowager Queen was then merely at the mid-point of her long life, and still had half a century of service to render.
Over the next five decades, the Queen Mother earned her eventual position as the Nation's (and indeed the Commonwealth's) granny; she travelled widely and was greeted with unabashed affection wherever she went. As eras will do, though, hers came to its inevitable end; following the death of Princess Margaret in February the Queen Mother's indomitable spirit, which had seen her through so much, finally began to flag. At Windsor's
Royal Lodge
, shortly after 3:15 PM on this day in 2002, and with her remaining daughter by her side, she finally passed from this world, just five months shy of her 102nd birthday.
Still, she had a few more surprises left up her flowery, organza sleeve; pundits predicted that her lying-in-state - to be held as per usual in
Westminster Hall
- would be poorly attended. In fact, a great many of them seemed to want it that way, to confirm their own middle-class prejudices against the monarchy. Over the next three days more than 200,000 people filed past the royal casket, confounding the expectations of the punditocracy by simply confirming the public's respect as well as their desire to be there for her as she had been there for them so many times before.
In a final poignant tribute her four grandsons -
Prince Charles
,
Prince Andrew
,
Prince Edward
and
Viscount Linley
- stood the
Vigil of the Princes
on April 8th; the following day a million people stood their own vigil, silently grieving outside the Abbey and along the 23 km route to
St George's Chapel, Windsor
, where she was to be reunited with her husband. According to the Queen Mother's final wishes, as her coffin left the Abbey, the Queen placed the wreath that had lain atop it on the Tomb of the Unknown Warrior, a final poignant echo in a long life well-lived.
The
official biography
of Queen Elizabeth, the Queen Mother - an impressive 1100-page brick of a book - was released in 2009, containing much material from previously unpublished private materiel held in the Royal Archives. Naturally enough, it wasn't long after its initial publication a copy found its way into the collection of the Pop Culture Institute.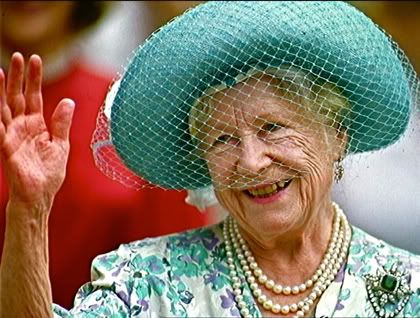 share on:
facebook