There are few novelists today willing to risk the infamy that comes with being entertaining, let alone amusing, which in turn makes the comic novel the literary world's one genre of endangered species; all this while comedy on television and in the movies is at an all-time zenith. Yet Canada's
Todd Babiak
,
Carl Hiaasen
in the United States, and the UK's
Ben Elton
toil in relative obscurity while their contemporaries churn out depress-a-thons (and scoop up awards) by the score. I forget who said it, but it bears repeating: making people cry is easy, but making them laugh is truly difficult. It must have been a comedian...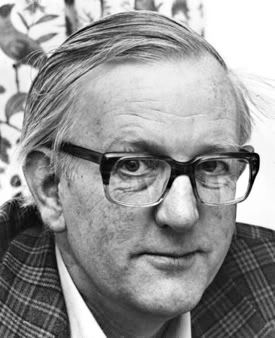 Born on this day in 1928, since 1971 Tom Sharpe has published more than a dozen insightful, angry, and philosophical novels which also happen to be hilariously funny. The English seem to excel at this sort of thing, or did anyway, once upon a time.
Douglas Adams
was practically a one-man industry during his all-too short life, and try as he might to continue his friend's legacy,
Stephen Fry
is simply too deep to maintain the level of glibness necessary. These days only
Robert Rankin
even comes close to achieving Sharpe's effortless absurdity, and in many cases overshoots it, landing in a literary cream pie in the process.
Yet it's funny (although not funny
ha-ha
) how many current titles in the stacks here at the
Pop Culture Institute
have covers with quotes promising 'funny' - from
Will Self
to
Lisa Moore
to
Julian Barnes
(fine writers all) - whose books could sooner crack a walnut than a smile. I buy them all -
Nick Hornby
,
Jasper Fforde
, even
Wendy Holden
- and while a few of their books are funny in passing, the humour in them is more wry, and either seems forced or accidental, rather than having anything to do with any effort on the part of their authors. I even bought
Sorting Out Billy
, a novel by
Jo Brand
(an actual comedian who's actually funny) while in search of a bit of a laugh, and never laughed once; in the meantime I continue to haunt secondhand stores looking to complete my Tom Sharpe collection.
Nowadays Sharpe is the grand-daddy of the comic novel, having limned the changes in society over the past four decades - be they in academe, the aristocracy, or apartheid. One of them - 1975's
Blott on the Landscape
- was even adapted into a sitcom; a similar treatment could easily be provided for
The Great Pursuit
(1977),
Grantchester Grind
(1995) or indeed any of them, without having to change much but the format. Although now 80, he continues to write, and so there may yet be another offering from Tom Sharpe in the years to come.
*
share on:
facebook